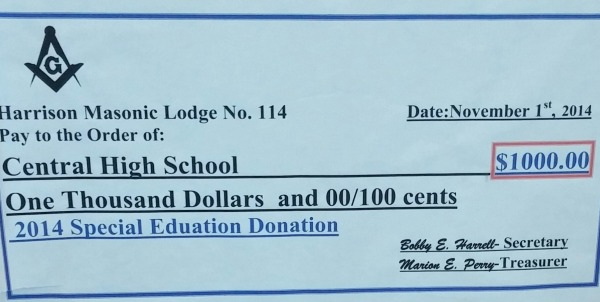 Maghan Champion
The Masons is a secret society that kindly helps out with some of  the things schools cannot provide for their students on their own. For instance, the Masons donate to Central and seven other schools' CDC programs every fall. The Central Digest took an inside look to find out how it is possible for the Masons to be able to donate $1,000 to eight different schools and the impact this donation is having at our school.
For the past ten years, the Masons have held a dinner/BBQ benefit for the eight schools they donate to. There is another annual fundraiser to obtain this money.
"The Masons hold a car wash every spring to raise enough money for schools," shared Mrs. Julie Henderson, one of the Central's CDC teachers.
"I'm very thankful that people care enough about my students to give money, considering my kids are very limited to the items they receive," Mrs. Henderson further stated.
Here at Central, there are two main CDC teachers, and they both split the money received from the Masons. Last year, the special education teachers invested in new calculators for their class. The Central Digest also learned that the donation is mostly used for a Christmas party each year and buses so the students can attend field trips.
"The donation means a lot considering we only get $200 at the beginning of every school year from the state!" expressed Mr. Rick Rogers, Central's other CDC teacher.
Sometimes at the end of the year, the money left over from the donation is given to the seniors to help them buy their cap and gowns. A simple gift from a group of strangers is doing a lot of good for many students at Central High.