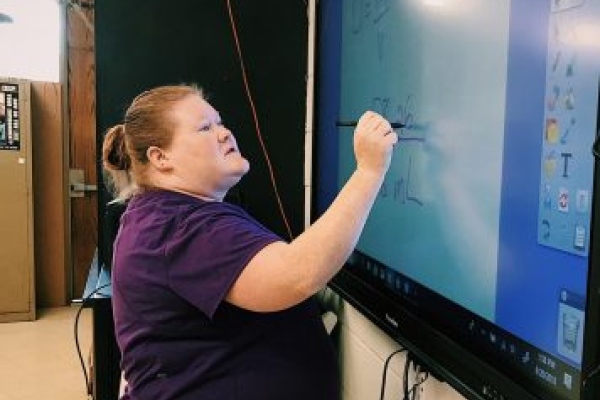 Dylan Muccino
Central's Chemistry teacher, Mrs. Megan Sanford, has recently left the school due to a brain tumor that was discovered near the beginning of the school year. According to Sanford, she felt the need to go the emergency room after noticing that she was losing peripheral vision in her right eye. Additionally, she could not process things as fast as she was used to.
When she got to the hospital the doctors did an MRI and discovered a mass in her brain. As far as recovery, she has gotten radiation in her brain, as well as getting an infusion immunotherapy drug to help her immune system fight the cancer.
"Mentally, I have been feeling great and I have a very positive outlook about this. Physically, I have been tired and weak, but I try to get a little exercise every day. Thankfully there haven't been a whole lot of negative side effects from my treatments," Sanford explained.
Mrs. Sanford plans to return before Christmas break. She misses her students and the staff at Central and is very anxious to get back to teaching.
"If you guys have questions or need help with anything, feel free to email me or message me on Remind. I love you guys and can't wait to get back," imparted Sanford to her students.
Multiple substitute teachers took her position before current AP Chemistry teacher, Mr. Wyatt Stracener, took over as permanent substitute for her class. He taught the regular Chemistry classes, but has stepped up to teach her more advanced classes.
Students believe that Sanford and Stracener have different teaching methods and have to adjust to the changes, along with the many substitute teachers that came and went before Stracener took over.
"I was shocked. She hadn't been here for that long, but she was already one of my favorites. I felt really bad for her and her family," admitted Junior Chelsea Childress, "We've had to adjust to their different teaching methods which can be difficult, but we're managing."
Overall, Sanford's recovery has gone very well, and she will get back to teaching in no time. For now, her students are in good hands and will continue to impress her in all the work they have achieved without her presence.