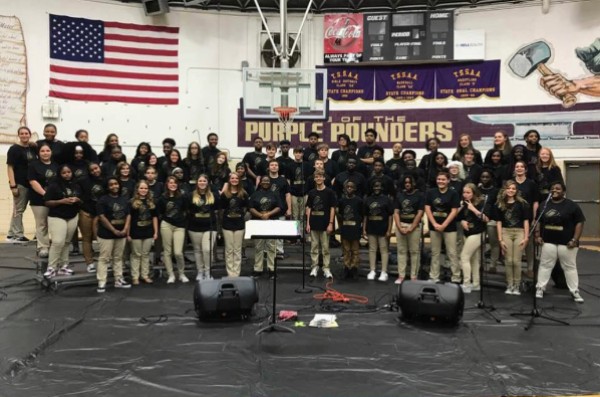 Chad Latham
Central High School's Open House began at 6 o'clock for students and parents on September 12. The night commenced with a performance by the Central Voices, directed by choir teacher Katheron Latham. They sang "Don't You Worry 'Bout a Thing" originally recorded by Stevie Wonder, and "A Million Dreams" from The Greatest Showman soundtrack.  The songs, deemed appropriate for the occasion, express hope for the upcoming school year.
"Open House was a great opportunity for our combined Central Voices choirs to sing together early in the semester. The students really enjoyed singing for the Open House audience and appreciated their response," expressed Latham.
It is a night for parents to see what their children have accomplished so far in the school year. They are able to meet with teachers and are informed of school events. Teachers were excited for the opportunity to meet parents and establish good relationships with them.
"It's been a good night. It's been really good to see parents' faces that I would otherwise not get to meet," explained Joseph Archer, Central's band director.
The night served as the beginning of a good connection between the staff and community for this school year. Teachers wanted to focus on communication with the parents and would like to continue maintaining good relationships with them; it is seen as important for the success of students.
"The hope is getting it clear; to stay up to date. The hope is really for communication," said algebra II teacher Peggy Moyer.
Students also appreciated the opportunity for parents to see their classrooms and accomplishments. A new year can be exciting as students adjust to new procedures and curriculum, so having their parents listen to what is expected of their students can also be very helpful.
"I want [my parents] to see my teachers and ask them if my grades are good or if I'm doing good in class," exclaimed Ziria Johnson , a sophomore at Central.
The night was not only Open House, but also considered Senior Night. It served as time where staff informed parents about upcoming events, fees, and college related opportunities.
The year will continue to showcase the effort Central students have put into their work. Open House was just the start of students being able to show off their classwork, and seniors plan to take this time to prepare for what lies ahead.