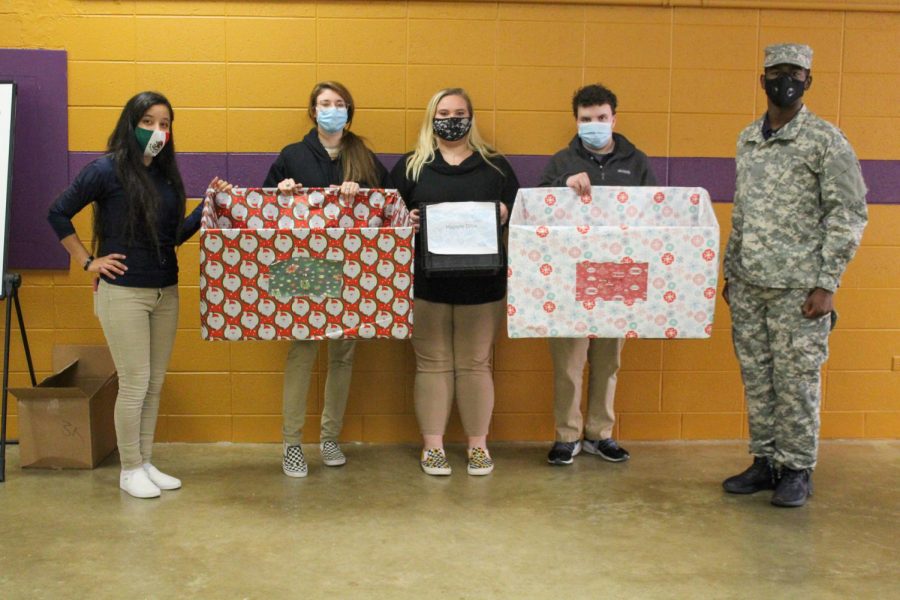 Sarah Katheron Latham
"Everybody can be great because anybody can serve. You don't have to have a college degree to serve. You don't have to make your subject and your verb agree to serve. You don't have to know the second theory of thermodynamics in physics to serve. You only need a heart full of grace, a soul generated by love," Martin Luther King Jr. stated concerning giving to others. Central's students have learned to embody this idea this semester as they give back to the community during this challenging year.
Central has hosted five charity drives during the first semester of the 2020-2021 school year: a food drive, blood drive, toy drive, hygiene drive, and coat drive. The food drive, blood drive, and toy drive are annual drives led by Central's JROTC (Junior Reserve Officers' Training Corps). Annual drives are supervised by JROTC leadership: Seniors Dallana Nolazco, Deondree Roberts, Morgan Crites, and Riley Martin. While leadership supervises, other cadets plan and volunteer for the events. All JROTC donations are accepted in the Cafeteria during all lunch periods.
JROTC's first charity drive was the food drive to benefit the Chattanooga Area Food Bank. Students were able to send in non-perishable food items from September 21 until November 10. In past years, only the cadets participated in the food drive, but participation was made available to all students this year due to having less students on campus. They had a goal to collect the same amount or more food than what was collected last year: 564 pounds of food. The JROTC met their goal by collecting 673 pounds of food (759 items). Most of the items were brought in by cadets. Any student who participated by bringing in five items or more received a dress down pass.
"This drive was one of the many ways to show the love and support Central's students and cadets have to offer to those in the community. Times like these are difficult… Central helped give thanks by giving back to others within our amazing community," expressed Dallana Nolazco concerning the food drive.
November 6 and 7 held the annual fall blood drive benefiting Blood Assurance, which was sponsored by JROTC and hosted at Central and Zaxby's on Highway 58. Zane Ferring organized the event and coordinated with Blood Assurance. It took a number of cadets to make the blood drive run smoothly. Students were taken out of class by cadets running the drive, walked to the "Blood Mobile" and given time to recover afterwards.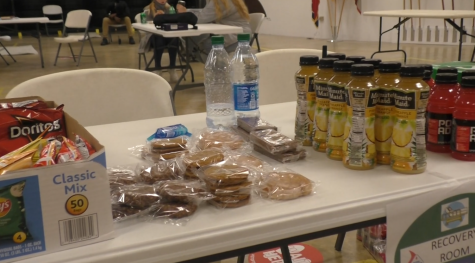 Despite reduced number of students on campus, 43 units of blood were collected, saving up to 129 patients. 19 first time donors took the step to give blood this year.  Students who participated also received a dress down pass and a t-shirt for their efforts.
"This is an outstanding job considering the environment with a divided student population of in-person and at-home learners to get donors there both days. It's never been an easy task, but it's far more challenging now. Way to go!" Master Sergeant Michal Dupre explained.
JROTC also sets up an annual collection bin benefiting Chattanooga Toys for Tots. The donations are being collected on December 16.
In addition to these annual charity drives, JROTC cadet Makayla Paris had another idea for a drive to benefit Chattanooga Room in the Inn. The charity supports homeless women and children by teaching life skills and helping them become sustainable. Central is collecting hygiene items for the shelter: cleaning supplies, oral care, shampoo, etc.  Students can donate these supplies until December 16.
"It is important because there are people in not so great situations, and these things are not always considered necessities, so they don't get them unless they are donated. I get to do these things every day, so these people should too," Paris declared.
National Honor Society (NHS) has decided to focus on outreach in the school system by collecting coats and outerwear for Orchard Knob elementary. A whole box of outerwear was collected and washed for the Orchard Knob students.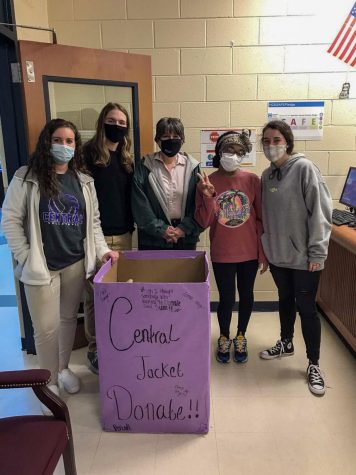 "We wanted to do a drive, but we didn't want to do something everyone else had done. It's getting colder, so we thought 'jackets and hats', so it was just a matter of meeting the need," Ashlee Smith, President of NHS, stated while explaining the planning process.
The coats were dropped off Wednesday, November 18 after school.
"[It is important] because it's getting cold and there are some who can't afford warm clothing, and I know that must be hard, so I think it is important to help the best we can," Kinsley Simms expressed.
Through this difficult semester of different Phases and social distancing, Central students have learned to come together to provide for and support their community. Central students plan to continue to strive for greatness in the community throughout the rest of this difficult time.