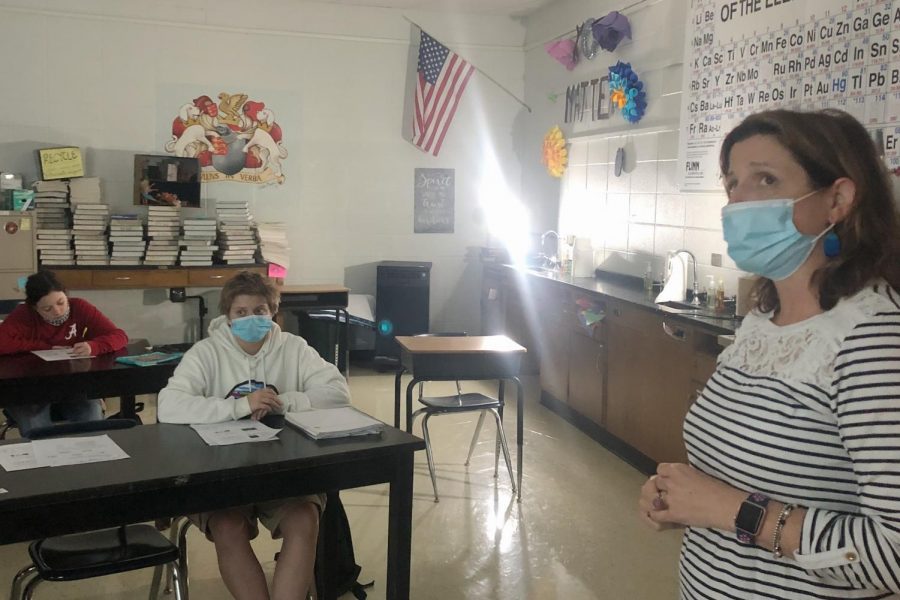 Mackenzie Farner
Last year, with the continuation of online learning and the difficulties surrounding the COVID-19 pandemic, Central had several exciting moments including the news that seven AP Biology students passed the AP exam.  Passing the exam is required to earn college credits for the class.
Throughout COVID-19 regulations and changes in the test preparation style for students, many wondered what would happen surrounding the AP exams.
"I think hybrid was harder, but the students answered the challenge and rocked it. I'm really so proud of those students for sticking with the class and continuing to try even though it was hard," commented AP Biology Teacher Tina Cotreau.
Some of the adjustments Cotreau made to accommodate her online students included putting all class notes and handouts on Canvas and using virtual labs for online students while participating in physical labs with in-person students. She also used her document camera often to demonstrate math and genetic problems featured in the course. Students also practiced with sample questions; they discussed examples of good answers and broke down the content down into simpler sections. Additionally, student feedback was utilized to improve students' experience, so she could meet their academic needs and provide support to anyone in need.
"She did a lot of hands on stuff with the class and also gave us plenty of materials to help us study and understand topics better." stated AP Biology Student Zachary Parris.
In the spring of 2021, the seven who passed the exam surpassed the number of students who had previously passed the exam than in the past.  Even with the exciting numbers of students who passed the exam, earlier this year, the AP Biology class was removed from class schedules for the year because of the small number of students enrolled in the class.
"I hope AP will be brought back. Just because something is hard/challenging doesn't mean it is impossible and it doesn't mean that people shouldn't do it," expressed Cotreau.
The AP Biology exam is a three hour exam that can provide the student with college credit that allows them to be ahead going into college based on how high their score was. Colleges can provide up to three college credits for scoring a three, four, or five on the AP exam.
With all the benefits and experience the AP Biology class can provide, hopefully Central's AP Biology class will be restored next year and ready for a new group of hopeful students.