Movie Review: 'Guardians of the Galaxy'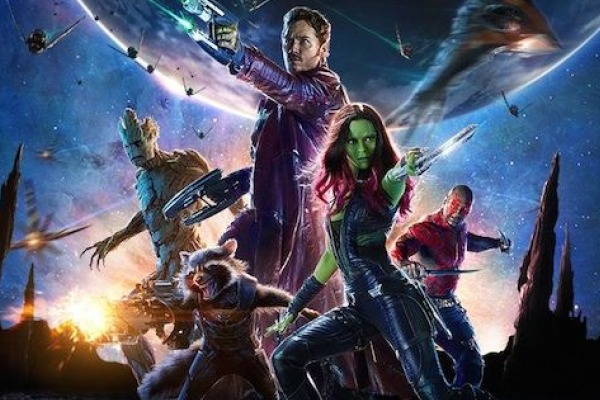 Hang on for a minute...we're trying to find some more stories you might like.
Marvel has done it again. Many superhero fans were very hesitant when the news arrived that the new Marvel movie would be "Guardians of the Galaxy". Many of the speculations were because of the little known knowledge of the story line. The comic books and characters of  "Guardians of the Galaxy" were not known to the audience as much as Captain American, Thor, and Iron Man.
"Guardians of the Galaxy" is an action-packed adventure film located in space.The plot of the film revolves around Peter Quill and an orb stone that contains the power to destroy the galaxy. The story starts off at the beginning, when Peter Quill is young and lives on Earth. His mother is gravely sick with cancer, and his father is nowhere to be found. When his mother passes away, Peter is abducted by a space craft. Fast forwarding to the future, Peter has recreated himself. He renames himself as Star Lord, inspired by a letter he has from his mother, and is a now a "Legendary Thief".
"I come from a planet of outlaws: Billie the Kid, Bonnie and Clyde, John Stamos…" That quote basically summarizes Peter Quill's personality – cocky and funny. The film makers did an excellent job transitioning the mood from serious to playful. Most of Peter's dialog and actions in the film are great way this is achieved
Star Lord steals an object of great importance to Ronan the Accuser, the orb stone, and must keep it from him. Ronan the Accuser is a powerful villain who wants the stone to bring destruction to the whole universe. For many different reasons, Peter Quill must unite with four other alien species. Gamora is the adoptive daughter of Thanos .She has been trained to be a weapon since her parents were killed by Thanos. Rocket Raccoon is the result of a bad experiment gone wrong. Groot is a walking and talking tree that can only say "I am Groot." And lastly, there is Drax the Destroyer, who wants to avenge his family's death by Ronan. This band of misfits must assemble together to save the universe.
Star Lord/Peter Quill is played by Chris Pratt, who has appeared in many blockbuster movies such as "Bride Wars", "Zero Dark Thirty", and "Moneyball". He also has appeared on the NBC sitcom "Parks and Recreations". Gamora is played by Zoe Saldana. She has been in many popular movies such as "Pirates of the Caribbean", "Crossroads", "Guess Who", "Star Trek", and "Avatar". Many other famous stars are featured in the film, including David Bautista as Drax the Destroyer, Lee Pace as Ronan the Accuser, Bradley Cooper as Rocket Raccoon, and Vin Diesel as Groot.
The film is directed by James Gunn. He also wrote the script along with Nicole Perlman. "Gunn became the first screenwriter in cinema history to write back-to-back No. 1's for the weekend box office hits, with 'Dawn of the Dead' on March 19, 2004 and 'Scooby-Doo 2: Monsters Unleashed' on March 26, 2004. Gunn's directorial debut was 'Slither'. It was a box office bomb, earning a disappointing $3,880,270 in its opening weekend, and grossing a worldwide box office total of $12.2 million," stated RottenTomatoes.com.
Although his first directorial movie was not a huge success, he did not give up. Unlike "Slither", the Marvel flick's current box office total is 313.7 million and hit the big screen the first of August. The Central Digest gives "Guardians of the Galaxy" five out of five smashing hammers. It is an exceptional film recommended to Marvel lovers everywhere. Men, women and children from all ages adore this brilliant and out standing film.It will have the viewers laughing and crying at the same time.