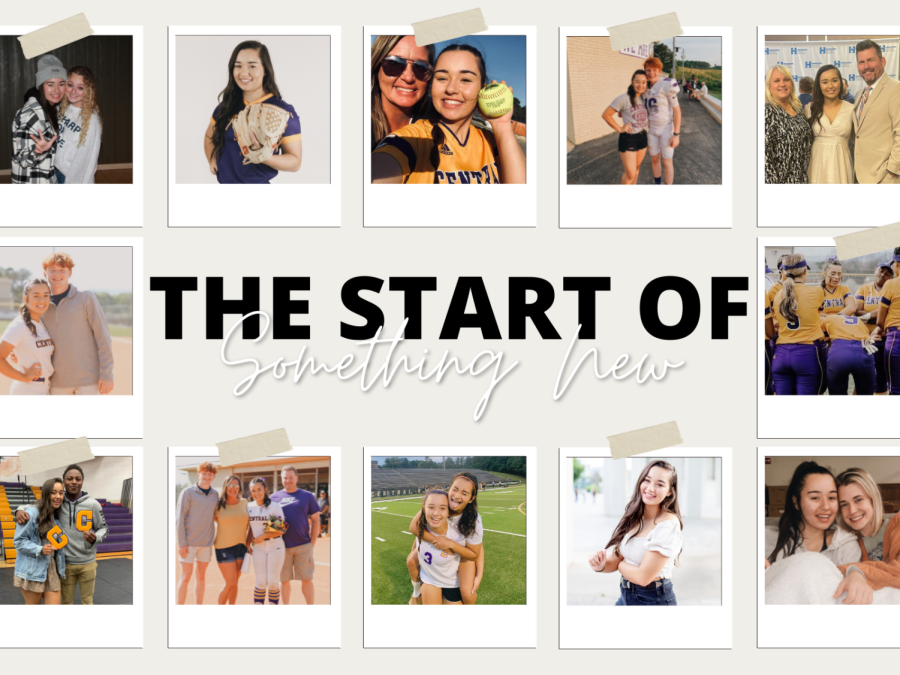 Karleigh Schwarzl
Goodbyes are something I absolutely hate because I have never been one to like change. In just two weeks, I will say goodbye to one of the most meaningful chapters of my life. I have always looked forward to my high school years. This was always a time I wanted to cherish and never take a moment for granted.
Now I can say that I have lived every moment of my high school years to their fullest. I have been on homecoming court, Miss Central court, volunteered with the Ruriteen Club, been in the top ten percent, been a member of National Honor Society and the Beta Club. On top of that, I was a four-year varsity softball player, a four-year varsity soccer player, an FCA leader, and part of YoungLife. I even opened my own photography and graphic design business, "Karleigh Jae Design and Co."
The moment I walked into the doors of Central High School God placed me here on purpose. I wanted to accomplish big things and had my eyes set on those goals from the very beginning. Being a third-generation Purple Pounder, this school has always been in my life.  My first outing as a newborn was to a Central football game.
This is the hardest article I have ever had to write. I never knew when I walked into B-109 that the Central Digest would mean so much to me. These have been the best four years of my life and I could not be more grateful for my time at Central High School.
The Central Digest taught me writing is not just for essays but there is so much more out there. It taught me to go past my limits and test new waters. It taught me to love the sports that I have watched for so many years in a whole new capacity. Without the Digest, I would not be where I am today; this newsroom has made these four years so rewarding.
To my family: You mean the world to me. Thank you for supporting me in everything that I do. I could not be where I am without the crazy support system that you all are for me. You guys have sacrificed so much for me and I cannot say thank you enough. You have molded me into the person I am today. I love you so much.
To the junior staff members: The newsroom is all yours now! This has been my baby for years after it had been passed to me; take care of it. Even when the days are long and hard, it will be so worth it in the end. Cherish every moment and do not take one second for granted because you will blink and it will all been gone.
To Bailey: Keep them in line for me. You are my best friend and I do not know what I'll do without you by my side. Accomplish big things; I will always be cheering you on. Someday you will be sitting in your desk writing your goodbye column.
To the 2021-22 staff: Thank you. you have been amazing! Through all the ups and downs you have never questioned me or my leadership. You have always trusted and listened. No one could not ask for anything more. This publication would be nothing without your contributions.
To Luke: Just saying thank you is not enough to show the appreciation I have for you. When my writing was absolute "dog water," you always had something to pull from it. Being the editor-in-chief, I was definitely not chosen based on grammar or spelling; I was solely chosen on leadership. When I did not know what else to do, you were right there to keep me in line or sometimes drive me crazy. Thank you so much for all that you have done. You are a good friend and especially a great proof reader. You are going to do great wherever you go. Being an English teacher is not going to be easy; however, there is not anyone better for the job.
To Cantrell: Thank you for trusting this little girl with a big job. You knew what I was capable of when I did not even believe in myself. I remember maybe writing two sports stories my freshman year and my sophomore year I was the sports editor. You have always been in my corner cheering me on in whatever I do making sure I was taken care of. Thank you for all of your encouragement throughout the years. At times when I questioned myself, you were always there to pick me up and tell me to figure it out. I would not be the writer I am today without you. Thank you.
To past editors: Thank you so much for paving the way for me. Throughout the years I have learned under incredible leaders. They have taught me so much and they deserve to be appreciated.
Now that I have been on this emotional rollercoaster, I think it is time to wrap up this article even though I do not want to. When I finish this, I will say goodbye to my time on the Digest. While I do not want my time to come to an end,  it must. There are new goals to set, new people to meet, and new things to accomplish. I will never forget what the past four years has taught me. Central means so much to me, but I know it is time to say goodbye. Next stop, Rocky Top!
Signing off,
Editor-in-Chief Karleigh Schwarzl, Class of 2022
"So be very careful how you live, not being like those with no understanding, but live honorably with true wisdom, for we are living in evil times. Take full advantage of every day as you spend your life for His purposes. And don't lice foolishly for then you will have discernment to fully understand God's will," Ephesians 5:15-17 TPT.