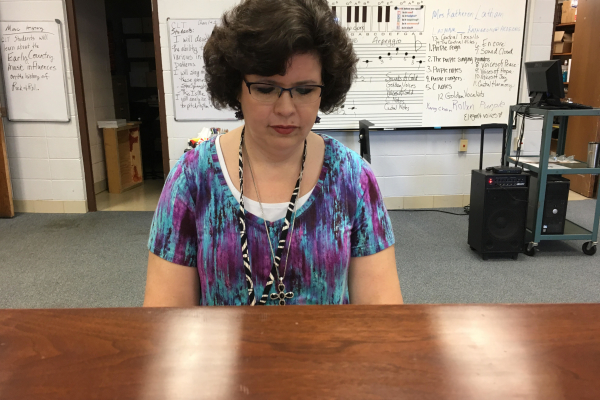 Kirstin Langton
Central High School has seen a lot of changes in faculty this school year. One of the additions, is Mrs. Katheron Latham.
Latham is Central's new choir teacher. She has been teaching in some aspect for the past 29 years. She has previously taught at the University of Alabama, private schools, and even her own home.
Latham grew up in Huntsville, Alabama while her father was truly a "rocket scientist" for NASA. She graduated from Lee High School and received her Bachelor of Music and Master of Arts degrees from the University of Alabama.
Sometimes adjusting to new schools can be difficult for teachers. However, this was no issue for Mrs. Latham.
"Although I am new to Central, I was familiar with Central prior to this year. My son, Riley Latham, is a 2016 graduate of Central, and sang in the Central choirs. I am so thankful to be teaching at a school with such a great heritage," responded Latham.
Mrs. Latham loves teaching and thoroughly enjoys seeing students come together to make music.
"Choir is one of the greatest examples of many different people coming together for a common purpose. They work together and produce a wonderful outcome, the gift of music," added Latham.
Mrs. Latham believes that there are many challenges that come with leading a group of people with many different personalities, personal preferences, and abilities. However, she also believes that the end result is always worth it.
"People that come together as a choir  experience a wonderful sense of community, as well as have the opportunity of producing great music," elucidated Latham.
Mrs. Latham hopes to impact her students in a positive way. She also anticipates that the perseverance her students develop while learning music will help them in their future endeavors.