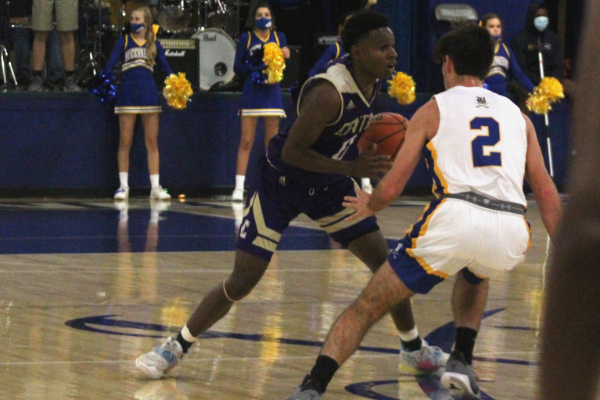 Karleigh Schwarzl
The boys' season began on November 17, and after only three games, the season was put on pause due to the Hamilton County school system reverting to Phase One.  In early January, the school system announced athletic facilities could reopen and team practices could resume. Hamilton County also announced that after a five day acclimation period, competition could restart.
On Monday, January 11, the Pounders traveled to Edward M. Foster Gymnasium to face off against the Ooltewah Owls. The team battled hard but came up short, suffering a 78-68 loss. Even though the Pounders lost, it proved to be a good game to get back into rhythm.
"It was an amazing feeling to finally play again," said Senior Donovin Taylor. "… it felt a lot longer than a month, but it was great to be back."
The following day, the Pounders hosted the East Ridge Pioneers. Senior Donovin Taylor led the Pounders' offensive attack by scoring a career high 31 points. The entire team played cohesively behind Taylor, and the unit produced a dominant 72-46 win.
"Once my first couple shots went in, I knew it was going to be a great night," shooting guard Brian Allen Jr. shared.
When asked about the team's big performance, Senior Jailon Jackson revealed,"…the win felt good for all of us because it was our first home game and we needed that game to get us started."
On Thursday, January 14, the Pounders hoped to add onto their momentum as they battled the Howard School. The team came out of the gate strong, but as the game progressed, the Hustlin' Tigers pulled away. In the end, the Pounders fell to the Hustlin' Tigers.
The following week, the Pounders faced a three game schedule. On Tuesday, January 19, they competed against the Tyner Rams. Then, on Thursday, January 21, Central hosted their district rival, the Hixson Wildcats. To close out the week, the purple and gold played the Signal Mountain Eagles. Coverage over these matches will be published soon.
Readers can view the latest sports updates on the sports center page. This is where schedules, scores, and rosters will be posted. The Digest will continue to bring the latest coverage and updates as the 2021 season progresses.