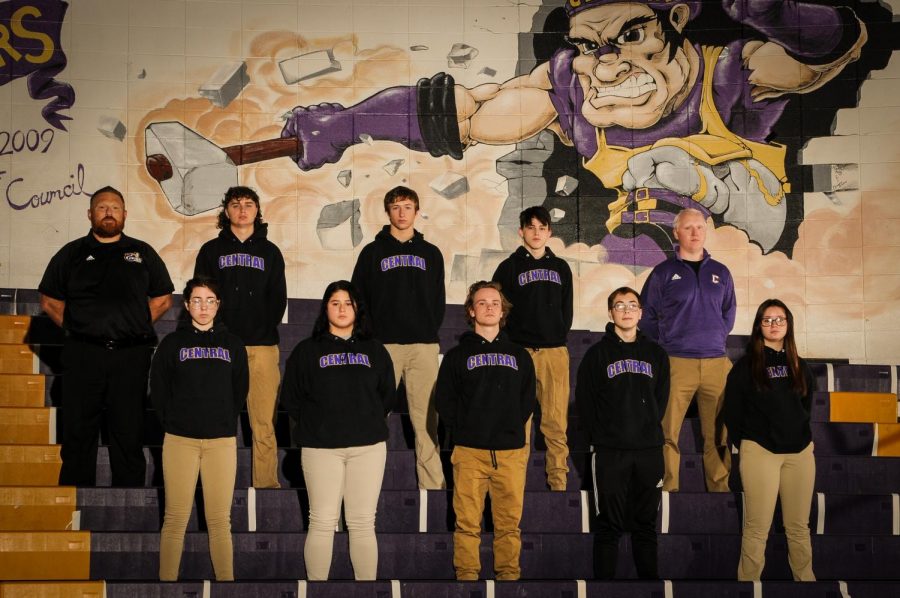 via LifeTouch
As the 2021 wrestling season comes to an end, it's good to look back and reflect on how far the program has come. In general, this past year has already been one for the history books, so it makes sense that the Pounders' wrestling season was also historic. This wrestling season has been nothing short of successful, and the foundation for future success has been laid out. This school year has been nothing short of abnormal; a shortened season, a global pandemic, and a limited amount of pre-season practice pushed coaches and athletes to their limits. 
Given the circumstances, the Pounders had a very successful season. Sophomore Gabby Gray became Centrals' first female wrestler to qualify for the state tournament. Central had some other great individual efforts as well. Senior Roby Thomas had 14 wins and only four losses for the season, and Randall Gray finished the season with 10 wins and three losses. Both of these players brought lots of experience to the team and served as excellent mentors to the fairly young wrestling team.
"It was a great season; I missed having tournaments every weekend, but I do feel as though I've made a lot of progress since last season," commented Junior Noah Pinion.
The future of the wrestling program is in good hands. Plenty of young talent is arriving from the incoming freshman class, and the team is only losing one senior this year. 
"I am optimistic about our future. We only lose one wrestler, Roby Thomas, to graduation. We have some good eighth graders coming up next year. And I think we'll pick up a few more kids once things get back to normal and everyone is back in the building," stated Coach Ryan Mallory.
Coaches Mallory and Massengale give out awards at the end of the season. The wrestling awards are as follows: Jesse Fowler was named the top freshman, Noah Pinion was selected as the most improved, Roby Thomas received the academic and outstanding wrestler awards. Congratulations to each of these wrestlers for all of their hard work.
"This team gelled unlike any other. The wrestlers genuinely liked each other, and there were no cliques or factions on the team. They would joke around during practice, and they went out together in their free time. The boys supported the girls and vice versa. I'm really happy about that because that is what wrestling is all about: people of different backgrounds finding a common interest and coming together," explained Mallory.
This team is special, and they have an unbreakable bond. Everyone is looking forward to seeing what they can produce together in the future.
The successes of this season will not go unnoticed, and the future looks bright for the Pounders' wrestling team. The Coronavirus pandemic challenged everyone, but the Pounders were ready for all of the obstacles ahead of them. The Central Digest will return to wrestling at the start of next year's season.