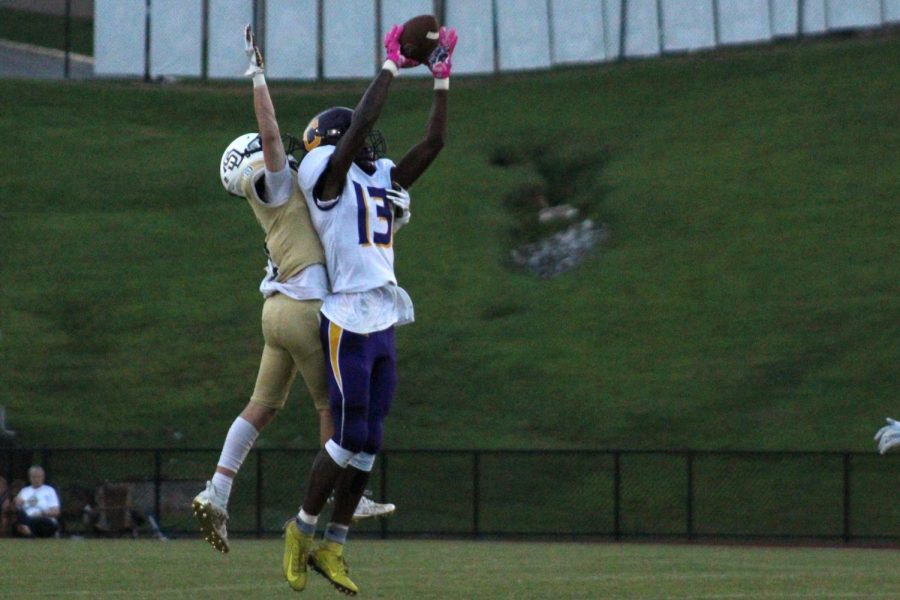 Karleigh Schwarzl
On Friday, September 3, the Central Pounders traveled to Soddy Daisy High School to take on the then 0-2 Trojans. The Pounders, coming off a disappointing forfeit to the Franklin County Rebels, were looking to regain momentum heading into the bulk of their district schedule. A steady attack throughout the game by Central and Coach Curt Jones propelled them to their first victory of the season, 18-6. 
Central opened up the game with a variety of pass plays, slicing the Trojan's defense. A 20-yard pass by Ronye Watson to Tyi Mosely set the team up inside the red zone. Leading to their second connection of the night on a 24-yard touchdown strike. Getting on the scoreboard early in the game proved vital for the Pounders, allowing them to capitalize on offense on two more drives later in the game. At the half Central was up 12-0. 
Central showcased their talents against the Trojans, racking up 262 passing yards and 199 rushing yards while holding Soddy Daisy to a total of 172 yards. 
Freshman quarterback Ronye' Watson put on a display with over 260 yards passing and two touchdowns in the victory. Other notable players include Donovan Smith, who reeled in three catches for a total of 126 yards and a touchdown, and Tyi Mosley with seven catches, 81 yards, and a touchdown.
The Pounders defense showed their toughness and grit with a dominating performance up front, as well as in the secondary. Trojan receivers had no room for air, and the offensive line was outmatched severely. Head Coach Curt Jones gave praise to his improving defense following the big district victory.
"The defense played a very thorough game tonight," boasted Jones, "the defensive line showed up and made huge plays to spike momentum in our favor."
Even through the positives, Coach Jones still feels the need for improvement.
"A big negative was the fact that we left multiple touchdowns on the field." stated Jones, "Our special teams play was sloppy at times and nearly cost us several possessions. Learning how to finish the game is going to be a big focus for us next week."
The Pounders are set to take on the Hixson Wildcats at home on Friday, September 10 at 7:30 pm in hopes of moving to 2-2 on the season. Readers can view the latest sports updates on the sports center page. This is where schedules, scores, and rosters will be posted. The Digest will continue to bring the latest coverage and updates as the 2021 season progresses and the start of the 2022 sports schedule.