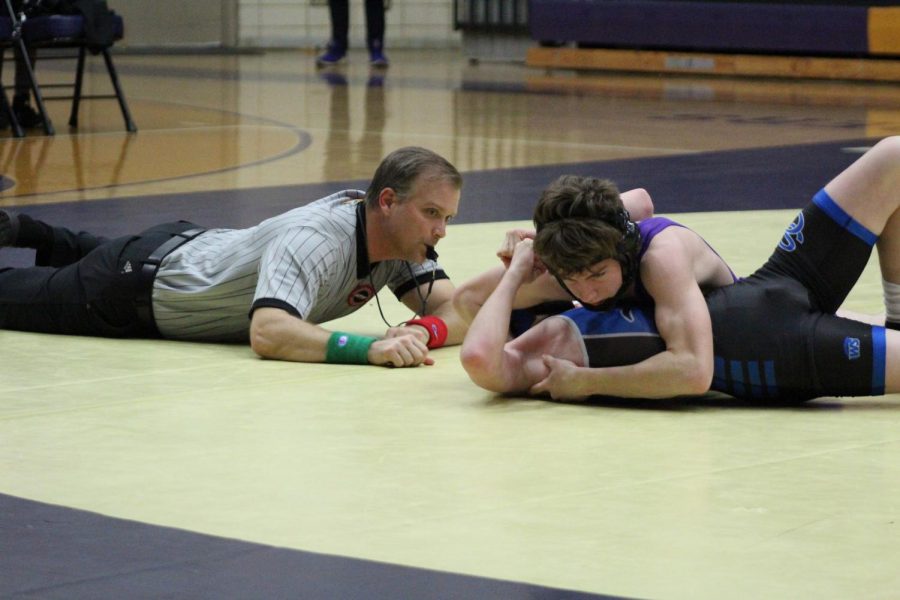 Karleigh Schwarzl
The regular season for wrestling has begun, following a good round of preseason tournaments. Coach Ryan Mallory expects his wrestlers to use what they have learned at the beginning of the season to full effect in the coming months.
Central had a total of three matches on Tuesday, November 30th in Central's gym that included Soddy Daisy, Sale Creek, and Brainerd. It proved to be a good day for the Pounders as De'Asia Gladden, Gabby Gray, Randall Gray, and Marquis Parson all placed 4th in their respective weight classes. Coach Mallory was especially impressed with both Gladden and Parson following their matches:
"This was particularly impressive for both De'Asia and Marquis, as this was their first varsity tournament."
The more experienced wrestlers, Gabby and Randall Gray, also performed up to the expectations of Mallory as he had hoped. 
Although the season began on a positive note for the team, they have begun to work on ways they can improve.  A few matches were left on the mat that could have easily swayed the Pounders' direction. Small mistakes made the difference in the outcome of a win or loss. Mallory and the team look to improve on those mistakes in the weeks coming. 
"I want to see us score more takedowns and get more pins," stated Mallory.
An overall improvement from the preseason matches with still a long season ahead.
Thursday, December 9, Central returned to the mats against Polk County, Silverdale Baptist, and St. Andrew's Sewanee, who proved to be tough opponents for the up and coming Pounders. 
In the first matches of the day, the Central Girls defeated Polk County 24-12, capitalized by an impressive 54-second pin by Dahlia Frankel. The Pounders seemed to be gaining momentum, but as soon as they hit Sewanee, all momentum was lost. The girls fought hard but came up short in the end, losing 12-36.
Heading over to the boys' matches, their skill showed as they picked up 36 points in forfeits against Polk County, ultimately coming out victorious in the dual. Following up the narrow win, the boy's dominated against Silverdale Baptist winning by a large margin of 54-12. Senior Caleb Yglesias and Jesse Fowler both received recognition from Coach Mallory for their first-period pins. 
"Jesse Fowler again rose to the occasion and pinned his opponent in the first period. Caleb Yglesias also dominated his opponent and recorded a first-period pin," boasted Mallory.
For the night as a whole, the teams did not perform up to standard as they often struggled at times, but several wrestlers stood out in their individual matches. Senior Dahlia Frankel rebounded after a fatal mistake that cost her a match by dominating her next opponent resulting in a pin. Adolphus Jennings, a newcomer to the team, also showed his heart and grit on the mat after falling down 8-0 to his opponent, but ultimately reversing the momentum and winning by pin. 
"Caleb Yglesias also showed a lot of heart," added Mallory pridefully. "In an exhibition match against Polk County, Caleb was down 8-5 in the 3rd period. He didn't give up, though, and won the match by pin."
There still is room for improvement, and the Pounder teams have not reached their peak performance yet this season. Coach Mallory wants to see more of what he teaches used in their next matches, with more opportunities in the future. 
"We need to get back to fundamental wrestling. We have good wrestlers, but when they go off-script, bad things happen," asserted Mallory. "We have to be ready to wrestle when the first whistle blows, and we need to use the techniques we are taught in practice. Wrestling is a verb, and we need to assert our will on our opponents."
The next round of matches for the boys will be in the Goss Duals at East Ridge, while the girls travel to Stone Memorial for the I-40 Clash. 
Readers can view the latest sports updates on the sports center page. This is where schedules, scores, and rosters will be posted.