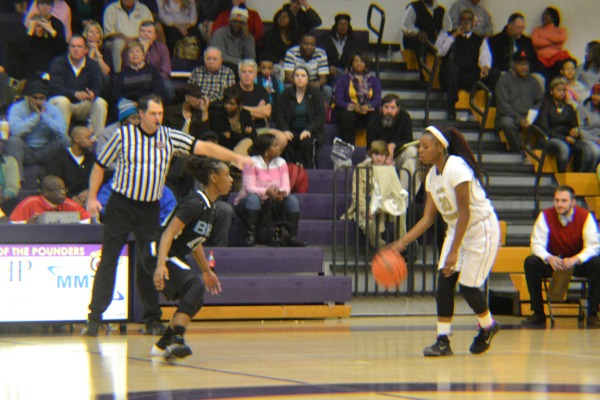 Philip Bonnington
The girls' basketball season starts on November 25 against East Ridge, and the girls are chomping at the bit to get on the court.
After their season was cut unexpectedly short last year (losing in the first round of the regional tournament), the girls are looking to redeem themselves and advance farther in the tournament this year. After only losing two girls who graduated and one senior, Madison Rogers, after a tragic and unexpected injury, the girls are looking to build off their performance from last year.
"Last year gave us the experience; we have never been a winning team, but we always knew what it felt like to lose. This year when we get back in that position, we'll know how to handle it," senior guard Sandrea Sylman expressed about building on their past season.
The Lady Pounders suffered a tough blow on October 17 when senior Rogers injured her leg in the powder puff game for homecoming. Rogers averaged around ten points a game and was the top three-point shooter in the county last year; filling a position like that is already looking to be very difficult.
"We were looking forward to Madison Rogers, but sometimes unfortunate things happen, [like] tearing up her knee; I think that will be a motivational factor for the girls," Coach Rick May stated on losing Rogers for her senior year.
Thankfully, the girls had two transfer students join the team this year – Bree Denton (a point guard from East Hamilton) and Dearia Kelly (a 6'1″ center), who will be seeing a lot of time on the court. Add in senior guard Sandrea Sylman, who is playing like she is on a mission already this year, and the rest of the senior class, and there is no force that could slow down these Lady Pounders.
"Sandrea Sylman is just a top notch guard in the city; she can do it all," Coach May expressed admirably.
Add all these things up with the girls' almost fairy tale regular season, not losing a single district game, being runner-up in the district tournament, and placing fourth in the regional tournament, there is really only one direction for these girls to go – up.
"I don't think any past Central girl's basketball team has made it through the first round of the regional tournament," Coach May stated on their goals to excel past that mark this year.
"Our first goal is to win district, then win regionals, and make it to the state tournament; overall, the goal is to play the best that we can by the end of the season," Sylman expressed vividly on her plans for the team this coming up season.
All in all, the Lady Pounders are ready for a breakout season. Even though they lost one of their best players, Madison Rogers, for the year, she will still be on the sideline to help the girls any way she can. She is sure to be one of their key leaders this year and ultimately lead the girls to a very successful season.