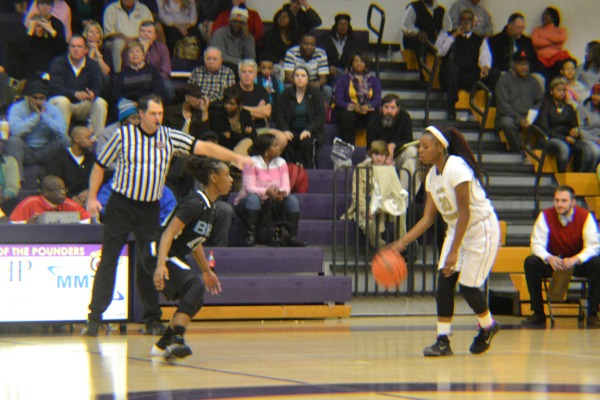 Philip Bonnington
Central High Basketball is in Sandrea Sylman's genes.
"Basketball is a big sport in my family. My brother played here [at Central], my uncle played, and my dad knew a lot about it. I was always around it," explained Sylman.
She has played since she was 11. Her brother, JaMichael Sylman has played from a young age and still plays recreationally. They both have done a great job of following in their family's footsteps. Mr. Frank Jones is one of Central's assistant principals and also happens to be Sandrea's uncle. He played in high school and at Tennessee Tech where he was inducted into the 1987 Hall of Fame. Jones also is in the Chattanooga Area Sports Hall of Fame.
Sylman has had many coaches over the years, but said her dad was her "no. 1 coach." Mike Sylman, her father, grew up playing in New York.
"There wasn't much interest at first, but she developed an interest the more she played," stated Sylman's father.
"He has taught me so many things off the court that my other coaches don't teach me,"  she commented.
Sylman is currently undecided as to what college she is going to attend next fall, but she plans on playing basketball regardless of the school. She has narrowed her choices down to Tennessee Wesleyan College, Freed Hardeman University and Carson Newman University.  After college, she is debating on becoming an international basketball player or an elementary school teacher.
"I always thought it'd be cool to go overseas and play," said Sylman.
Since she is a senior, Sylman has played several games with the Central High School Lady Pounders. She recalled her worst game at the regionals last year when she could not play because she had the flu. Sylman has a determined attitude and attempted to play, only to get sick later and faint. She was crushed that she could not play the last game of the season and that her team lost.
"My favorite game was last year's Senior Night – we played Tyner. In the past, Tyner has always beaten us. Last year, we had beaten them once already at Tyner and played them again for our Senior Night. We played defense really well and had such high energy… We probably beat them by about 30 points! That was the most we had ever beaten Tyner in Central history," exclaimed Sylman.
Sandrea's strengths as a point guard include driving quick to the basket, sinking free throws, and making lay-ups. Slyman is averaging 21.8 points per game, which is her highest average of her career. She said that although she is not a terrible jump shooter, she needs to take more jump shots to open up the inside more. She wants to improve her ability to see the floor more and to create more intricate plays rather than simply scoring.
Many young athletes struggle to balance sports, school, work and social life. Luckily, that is not an issue for Sylman.
"She has always had a good sense of balance. She has always been able to manage things well. I am extremely proud of her, words cannot express," exclaimed Sylman's father.
"Sandrea is a very intricate part of the team and when she's on the court she makes everyone a better player!" according to Richard May who has been the Lady Pounders coach for 34 years.
"Sandrea makes the team a family! She is definitely someone to look up to on and off the court. She is always so nice to everyone she comes into contact with, and she is an excellent player," stated Emily Feist, a sophomore basketball player.
"I hope that I can accomplish the high standard that is set for me! The greatest feeling is knowing that I've helped make the team a family," said Sylman.
Sylman is optomistic about her last basketball season as a high schooler and is determined to succeed in every aspect in her life, on and off the court.