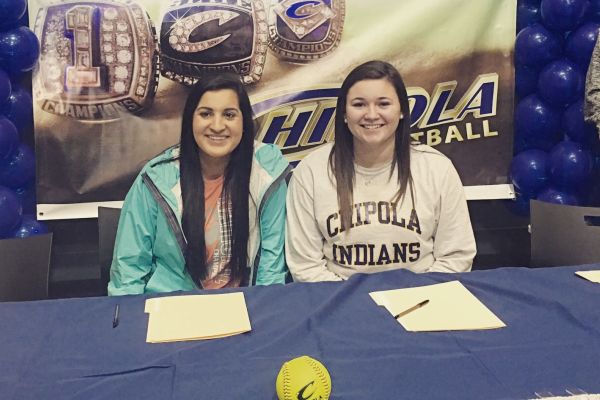 Senior softball players Alexis Grampp and Reagan Benedict are excited to continue their softball careers at Chipola College in Marianna, Florida. Both girls received full-ride scholarships to play ball and continue their passion for softball throughout their college experience.
Short-stop Alexis Grampp began playing softball when she was only 6 years old, developing a love for the sport at an early age. As she got older, she played on the Frost Falcons '98 select team, which traveled to many different states and received exposure to a large amount of college coaches. Grampp also played at Brown Middle, and now at Central. She has been starting on Varsity all four years of high school as a utility player and now, mainly plays short-stop, but her talent expands to all positions other than catching. Her offensive skills have had a massive impact on the Lady Pounders' success as well. She hit 9 home-runs her freshman year, and 15 during both her sophomore and junior year.
"My select team played in the Atlanta Legacy Tournament, and the Chipola coach emailed my coach showing interest. I began showing interest as well, went to visit, and they offered me a full ride. It's definitely a blessing," Grampp shared.
Reagan Benedict, another future Chipola player, is new to Central this year. Though she played at Ringgold middle school and high school her entire softball career, she is spending her senior year playing for the Lady Pounders. Reagan has also been playing since she was 6, and hopes to play a major role as a catcher on Chipola's team.
"I was really nervous about switching schools and teams during my senior year, but I'm excited to play with these girls. I think we have a great shot at winning state," Reagan commented about the upcoming season.
Grampp and Benedict both bring an incredible amount of talent and hard work to Central's Lady Pounders softball team. Their experience and passion for the game has earned them full-rides to Chipola College, a place for them to grow and excel in sports and education. They both plan to study physical therapy while playing ball.
"For all of the student athletes who are nervous about college ball – keep emailing. Stay in touch with coaches. Try to visit lots of different colleges. That's a huge part of the process that makes the biggest difference in your future," Alexis Grampp recommended.