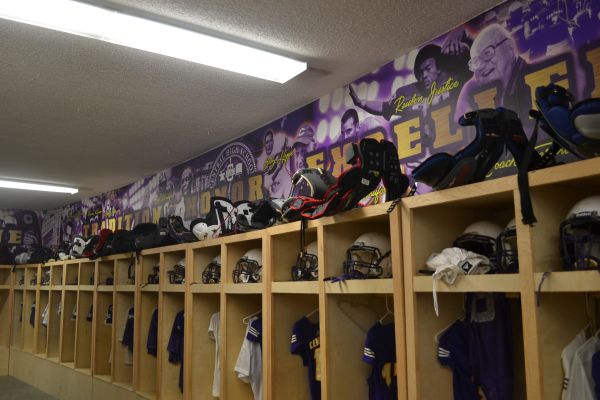 Savannah Smith
Locker rooms are typically described as foul-smelling chambers where athletes store their belongings, but that is not true for the new football locker room. Central High School Football Coach Cortney Braswell, along with many others, worked diligently over the summer to revamp the outdated space.
"On the first team meet, I promised the players a new locker area, but none of them believed it would happen," recalls Braswell.
Most people would agree that nearly everything about the old space was a problem. It had little storage space, it was disorganized, and lacked the qualities of a proper locker room. With this in mind, Braswell made sure that the improvements would help his players have a more enjoyable and comfortable pre-game hangout.
Construction started on June 1st, with most of the work being done by Braswell himself and a couple other crew mates.
Now, there are bigger and better lockers, with additional cubbies underneath, and brand new carpeting. The air is noticeably fresher than before, and the new wall graphics really put a pop of Central spirit into the space! Several players and Alumni members are featured on the walls of the room as well.
The total cost of this renovation was $11,000, minus labor fees. Around $5,000 was spent on lumber while the carpet and graphics costed $3,000 each. Movie theater chairs have also been bought, in hopes of setting up a theater room in the future.
The football players help maintain the new additions by cleaning the room every day. They take great pride in the new space, so they try their best too keep everything nice.
"We spend about 30 minutes a day cleaning. Sometimes more," admits Braswell.
This project is a prime example of how changes can be made in the area. With a positive outlook, determination, and the right resources, anyone can make a difference.