Cross Country: Pounders Finish in Seventh Place at Heritage High Cross Country Meet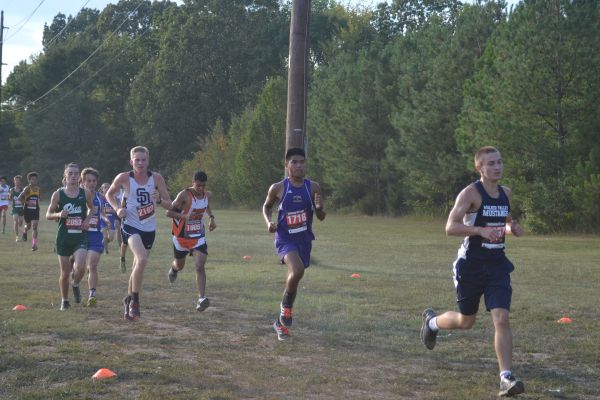 The Central High Cross Country team is setting records as the season begins to wind down. At their last meet at Heritage High School, junior Alberto Dominguez placed 20th out of 181 students from over 25 schools around the county.
"I run really fast,"  joked Alberto Dominguez, whose personal record is 3.1 miles in 18 minutes and 46 seconds.
Central Cross Country coach Janice Munson pushes her runners to do their best and to strive to be better runners and better students.
"I love my kids. I don't think I've ever had to tell a child that their grades were slipping, because all of my kids are honors students." said Munson.
Dominguez, one of the fastest runners on the team, tries to be a better runner after every meet, in an effort to make it to the state meet.
"Alberto has a lot of natural skill. He punctured his foot during the summer, where most cross country students condition for the upcoming season, but he work even harder when he got better and I couldn't be prouder." admitted Munson.
"When I came back to school, I felt tired and run down and had to catch up a lot, and as in the movie Forrest Gump, 'I just…felt like running.' So I am really proud of my running right now." shared Dominguez.
Munson also thinks it is pretty great that everyone is getting better and everyone's time is improving, like junior Leonard Burrows. At the last meet, on September 19th, Burrows' time went down 53 seconds, which set his personal record at 20 minutes and 58 seconds.
"I feel good about my running. I feel respected on the team and my main goal, as a runner, is to be first place, and I am going to achieve it." stated Burrows.
With only a few more meets left in the season, Munson and the whole cross country team has set their goals and have started preparing for Region on October 25th. On that date, 45 teams come together and the top three teams in the individual race make it to the state.
"I have a really good feeling about the season and I think we are going to make it." concluded Munson.
About the Contributor
Savannah Smith, Editor-in-Chief
Hi, my name is Savannah! I am a senior and this is my third year on the Central Digest Staff! I am the Editor-in-Chief for the Digest and I would...