Pounder Runners Finish 14th at State Cross Country Meet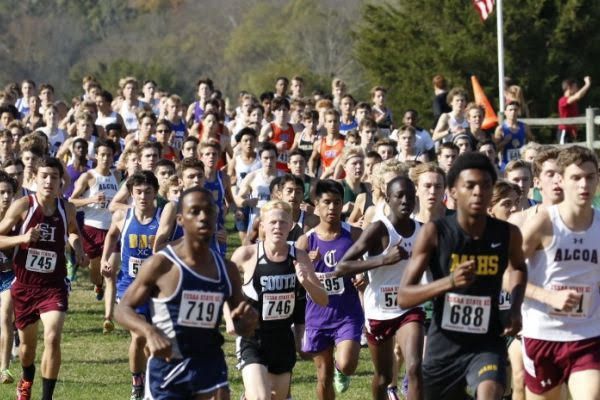 After a hard push through region, the boys cross country team finally made the final stretch and competed at the state championship in Brentwood, Tennessee on November 4th. The team placed 14th overall out of 23 teams and the 6 runners competed against 190 students.
"I feel the season went great this year and State was just the topper. All of the guys improved and ran very well when we needed it at the end," commented Coach Matt Joyner.
The state competition took place at Percy Warner Park in Brentwood, Tennessee. The purple pounders rallied together and headed up on Friday morning after a quick pep rally from the student body.
The team's overall score was 349 and the total average of all of the boys' times was 18 minutes and 40 seconds. Alberto Dominguez, a returner to state, placed 52nd out of the whole race with a time of 18:01.
"We all did very well as a team and we kept practicing harder and harder and we were very prepared during the race. I'm really glad with how the season played out," stated Dominguez.
Not too far behind him, sophomore Nathen Vander Wilt, placed 88th with a total time of 18 minutes and 24 seconds in his first race at State.
"I don't think the course was too bad. After the first mile, I think I just pushed harder to finish, but I'm pretty glad that I didn't throw up too," joked Vander Wilt.
The team is sad that the season is over, but they are planning on returning to the state championship next year in Brentwood.
"This season was probably one of the best seasons this school has ever seen in awhile and it was a good season, but we will be back next year," concluded Dominguez.
About the Contributor
Savannah Smith, Editor-in-Chief
Hi, my name is Savannah! I am a senior and this is my third year on the Central Digest Staff! I am the Editor-in-Chief for the Digest and I would...