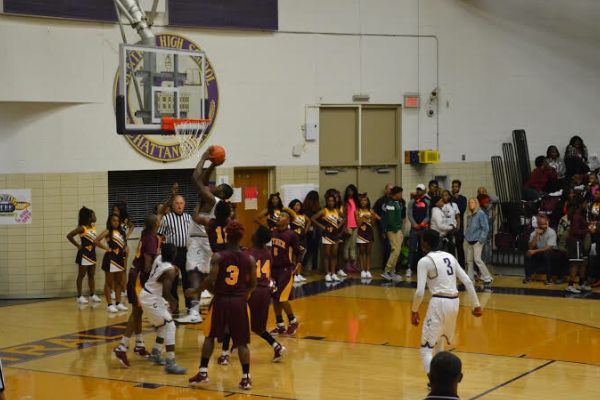 Savannah Smith
As the 2016-17 basketball season continues, the Central Purple Pounders remain head strong for future victories. The Central Pounders faced the Hixson Wildcats in a very frustrating game at Central High School on December 6th. Central managed to keep the lead until the Wildcats pulled through and tied the game in the fourth quarter, leading into overtime after a rough 4th quarter. In overtime, Hixson managed to get a 10 point lead, winning the game 57-47.
Rick Rogers, the boys basketball coach, believes that the boys have work to do and are still looking forward after the tough loss on Tuesday.
"They're having difficulty handling pressure and as a team it really shows when they're being pressed," explained Rogers.
Rogers describes half-time as the turning point for the boys as they are still working to get a victory.
"We will get better everyday and hopefully next time around we will win," clarified Rogers.
This season, Central has almost a whole new team, and soon the team will add DJ Baxter as an additional source. Returning senior,McClendon Curtis, expresses his thoughts about the tough game they had played.
"I think we did pretty well and to improve. We have young guys and they just need to step up to the plate and not be afraid to make mistakes. They are talented, but they just need more confidence and I'm willing to lead them and support these guys," shared Curtis.
"Hixson was an opponent that we should've beaten, but they're a great team with a great coach." Curtis added.
After a tough loss for our mighty Pounders, they still congratulate Hixson on a job well done. With hard work on and off the court, the Central Pounders continue to get better and better everyday, with hope for victories in the future.