The 2018-2019 Girls Soccer Team Concludes Their Season After Months of Hard Work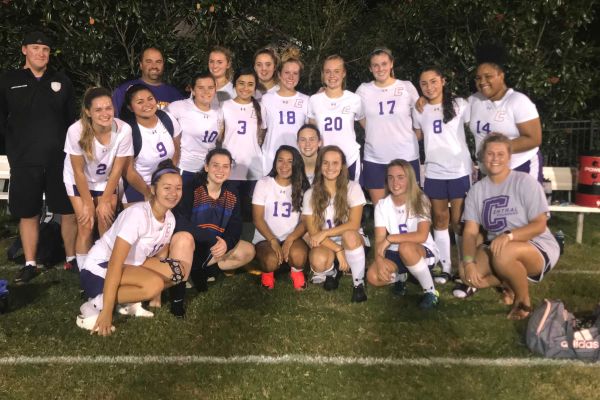 Hang on for a minute...we're trying to find some more stories you might like.
The 2018-2019 girls soccer season has concluded and the teammates could not be more proud of each other and their hard work. They practiced four to five days a week from 2:45 to 4:00, in hopes of getting enough practice to prevail in each game.
In total, the team had nine seniors, four juniors, three sophomores and four freshmen. Coach Tim Browder pushed them to work harder each day; the drastic change could be seen in their last game against East Hamilton.
"I enjoy working and building relationships with the players as well as celebrating their wins and working through losses," explained Coach Jonathan King.
Senior captain, Maggie Pedigo, continued to encourage the team on a daily throughout the season. Even through losses, she managed to keep a positive attitude.
"It's amazing to see how we have managed to keep a positive attitude about everything; I think as a whole we just needed to improve on communication and being patient," stated Pedigo."Personally, being patient is something that I need to work on because we have players on the field that don't normally start, and sometimes there are going to be mistakes made."
Senior Anahi Colunga expressed her concerns for the team, along with how she prepared herself for each game to achieve more success.
"Some major improvements for the team would be trust, we needed to trust each other more and communicate," explained Colunga, "I tried to stay focused before and during the game on what I needed to do, especially in warm ups."
In addition, Senior Jimena Villanueva chimed in on the talk about teamwork.
"We have such a motivating team but on the field I feel like we lacked teamwork and communication skills; that is one of the biggest things," admitted Villanueva.
Through wins and losses the sport itself is what makes it so easy to want to strive for more.
"Every team in every sport from amateurs to pros needs to improve in some way or another, we are no different," alluded King.
"Playing soccer is really competitive and the amount of teamwork required for it is what I think makes it such a good sport," shared Pedigo.
Current seniors on the team also wanted to give advice for the rising seniors.
"For the upcoming seniors, always remember that this team is a family, have fun and enjoy the moments given to you," expressed Villanueva.
"Be a leader, you have people on the team that will look up to you, don't give up," concluded Colunga.

About the Writer
Meghan Duncan, Sports Editor
Hi, my name is Meghan Duncan. This is my third year on the staff and my second year being the sports editor. I have been cheering for 3 years at Central,...