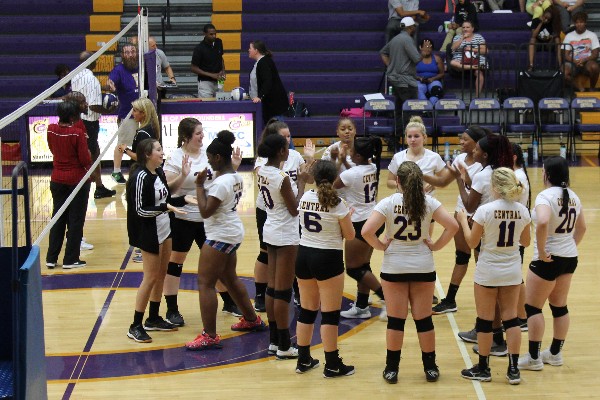 Jack Graham
As the Lady Pounders continue further into the 2019-2020 season, it seems like the grass can only be greener on the other side.
They played against Notre Dame on Monday, September 23, at Notre Dame. The next game was at Central against the Patriots, a team organized for home-schooled students, on Tuesday. Though the girls suffered a loss after Monday's game versus Notre Dame, with a set score of 0-3, Tuesday's game against the Patriots resulted in a brilliant win, with many key plays to be shared.
"TaNiya led us to victory with the winning hit," said Seniors Olivia Rawl and McKenzie Stephens.
Rawl and TaNiya Crowder both had five kills, while some of Rawl's kills helped the team gain momentum. Crowder got big on the net with a massive block, and there were a few hustle plays overall. The game ended with a Central victory of 3-0.
Later in the week, on Thursday, the Lady Pounders wrapped the week's games up at Hixson, playing Hixson's team.
The Hixson game ended with a loss for the Lady Pounders of 0-3. During the game, Kamren Hammonds played well and made strong digs. Rawl got solid hits and a few digs, and Crowder made two blocks and two kills.
To achieve success in the future, the team must focus on improving their communication on the court and believe that they have the skills and capability to win. Along with determination, this is what will help motivate the team to become more competitive.
"[We need to] play hard and play together," Coach Holly Ware explained.
Being more connected is one of Coach Ware's goals for the team, as she recognizes that all six girls on the court at any given time are the true key players.
Coach Ware holds high expectations and standards for the team, and anticipates that the girls will play hard in their district tournament next week. The Lady Pounders hold the third ranking in the district, and will play Hixson on Monday, October 7.
Readers can view the latest sports updates on the sports center page. This is where schedules, scores, and rosters will be posted.