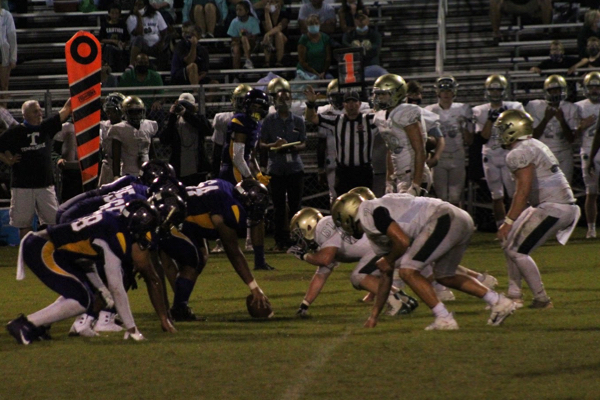 Luke Keown
The Central Pounders played against Notre Dame in their first week under the stadium lights. Going into the game, the team was focused and hungry. In anticipation to play after months of uncertainty, they held their heads high. Team captain Senior Jacob Leftwich stepped to the middle of the field to lead the Pounders.
The energy in the beginning of the game was strong and vibrant. Central took the field to return the ball at the start of the game. Junior Noah Collins was back deep for the return and advanced 15 yards. As the game proceeded, the Pounders kept pushing forward but began to fall short. The first quarter ended with the Irish up 14 and the Pounders with zero.
As the game progressed, the energy of the Pounders slowly decreased. However, in an attempt to keep their fight alive, the Pounders ended up driving the ball down field 70 yards. They ended the second quarter with an amazing drive, but no points were to be found. The Pounders continued to fight the Irish throughout the game, entering halftime with the score 26-0.
"I was really disappointed that we were not able to capitalize on the momentum shifts that we continuously created," stated Coach Curt Jones.
Going into the third quarter, the Pounders were losing their energy. Sophomore Quarterback Connor Tyler got tackled hard, which resulted in an injury. This put Freshman Evan Schwarzl in as quarterback. The defense was fighting hard to regain strength, but in the end, they allowed another touchdown to be scored, ending the third quarter with a score of 33-0.
The fourth quarter looked different for the Pounders. The defensive line was on lock down, not allowing a single touchdown. With many drives and pass plays, the offense was hitting on all cylinders; although,  they fell short by not gaining any points, cementing a 33-0 loss against the Irish.
"The whole team played pretty well, we had a lot of mental mistakes, but those are things that we can fix down the line," stated Leftwich.
The Pounders played very well defensively, totaling three sacks and 30 assists. Junior Tyi Mosely stood out among the wide receivers having a total 90 yards with Junior Noah Collins falling behind him with 86 yards. Michael Watson had a tremendous amount of yardage with 56 rushing yards. Starting Quarterback Connor Tyler gained 61 yards, while Quarterback Evan Schwarzl gained 165 yards.
Readers can view the latest sports updates on the sports center page. This is where schedules, scores, and rosters will be posted