Central's Annual Homecoming King and Queen To Be Announced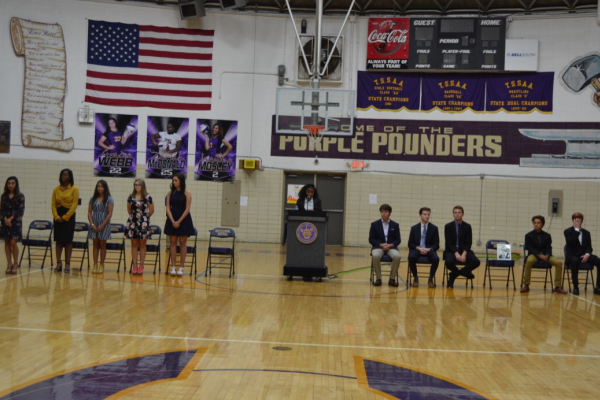 Hang on for a minute...we're trying to find some more stories you might like.
Every year, the seniors of Central High School nominate their peers, from the senior class, to be on the Homecoming court based on their qualifications. After Principal Finley King announced the nominees, students were able to elect the Homecoming King and Queen of the year. They voted on Friday, October fourth, on the person they believe deserves the title of Homecoming King and Queen.
This year, the 2018 court contains five girls and six boys. Anahi Colunga, Alesha Darby, Edicklee Frias Cruz, Laurelie Holmberg, and Maggie Watts are the girls who were nominated to represent the senior class. Matthew Davis, Preston Fore, Jake Johns, Michael McGhee, Ivan Michel Llamas, and Nathen Vander Wilt are the boys who were also chosen by their peers.
Sophomores, juniors, and seniors were able to vote for who they think is the most qualified based on their different achievements and the way the nominees compose themselves.
"In my opinion, I think what qualifies someone to be on the court is leadership, kindness, school spirit, and being in the top third of your class," senior Anahi Colunga stated.
Homecoming is very important to some people for different reasons. Some students care more about dressing up for spirit week and attending the homecoming football game on Friday. For the rest, it is to fulfill the role of homecoming king or queen.
"This [being on the court] is important to me because I want to show the younger girls at Central that if they put in all the necessary hard work and effort; they can make it on the court as well. I want there to be a good reputation of what a Central High student can be, not only for their school, but also for their community," senior Edicklee Frias Cruz explained.
For some nominees, being on the court is important to them because they are following their parents' footsteps. Anahi Colunga And Edicklee Frias Cruz both are following their moms' footsteps who were both on their homecoming court in high school.
Though both Frias Cruz and Colunga got to where they are today because of their mothers, Preston Fore's inspiration comes from his teachers.
"I definitely credit my teachers, especially Mrs. Hooper, Ms. White, and Mr. Cantrell, to the success I have had that has lead to this moment as a senior. Without them, I do not know what I would be doing. They have opened so many doors for me and led me to being the person I am today," senior Preston Fore admitted.
No matter how the students arrived to where they are today, you can tell that the members of the homecoming court are all proud to be a Central Purple Pounder.
"Pros of being on the court of course is the distinction and recognition of the hard work you have achieved over the years here at Central. I was not really expecting to be on the court, but I believe it is a wonderful honor to represent Central in such a positive way," senior Laurelie Holmberg expressed.
"Being on the court is an honor we will all remember," Fore declared.