The Junior Class Officers Plan for a Year of Pounder Pride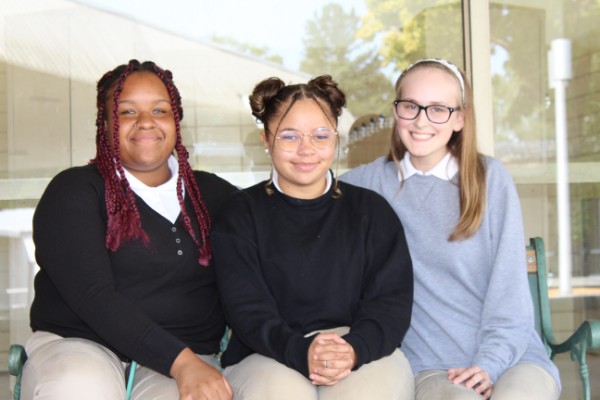 The 2019-2020 junior class officers have been elected, and they plan to lead their class with school spirit.
This year's junior president is Destiny Smith. Smith has plans to work with her associate officers in order to organize activities for the junior class. She wants to highlight the juniors' success this year by continuing a distinction from last year's sophomore class, which displayed descriptions of star students and their achievements on a board in the cafeteria. She also revealed that she ran for president because she wanted to be a voice and helper for her peers.
"I want to be the person [my peers] come to with all of their comments, concerns, and questions," Smith explained.
She was not worried about the competition for the presidential position, but she disclosed that she has been concerned about the opposition in past years.
"I was expecting to win this year, because I had no one running against me. In the past, I've had more worries about winning, though," she revealed.
Smith is part of the cheer team and Central's band. She thoroughly enjoys both of these extracurricular activities and added that she will never stop doing either. Her favorite qualities about Central include the school spirit and cooperative administration.
"I like that Central students can come together and show lots of school spirit when given the opportunity. I also like that the administration will listen to the ideas that we have, even if they may not agree with them," shared Smith.
Ariya McGhee was elected as the junior vice president. McGhee plans to do whatever is needed in order to succeed as a class. She wants to work with her classmates to further junior accomplishments.
"I decided to run because I'm a social person and feel as if I have the potential to communicate my peers' thoughts for the better of our class," McGhee explained.
Like Smith, McGhee expected to win the election due to the fact that she was the only one who ran for the position of vice president. She is a member of Central's concert band and also plays for the tennis and soccer teams.
"What I like about Central is that it's diverse and you get the opportunity to get to know people that are different than you," McGhee divulged.
The junior class elected Zoey Greene as their class secretary. Her plans include establishing success by helping her peers stay on track and work more efficiently.
"We have plans to get the junior class more involved and are evaluating many techniques to ensure maximum productivity," she revealed.
Greene was also the only one running for her position, so she did not have any doubts that she would not win this position. She also explained that she has aptitude for management and initiative.
"I decided to run because I genuinely have a love for organization and notes. I also love helping people and being a leader among my peers," she stated.
Greene's hobbies involve reading and writing. She loves Central for its diversity as well, and believes that the school has impressive pride. She expounded upon her love for Central by clarifying that the the school has the best teachers and administrative staff.
Each of the junior class officers have their own unique set of skills that they plan to use in order to arrange for a great year. The junior class is very hopeful that these students will represent them in the best way possible, and is very excited to see what their class officers accomplish this year.