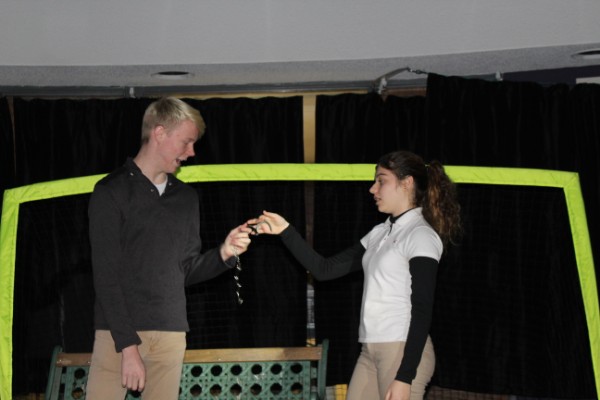 Abby Young
Central's theatre club is tirelessly preparing for the production of their first play for the 2019-2020 school year. The theatre teacher, Kelsay Cate, and her students are very excited for their new take on an old tale.
The production is called "#Hashtag Romeo" and is a modern take on the classic story of Romeo and Juliet by William Shakespeare. It will take place Thursday, November 21 at six p.m. in the library. The doors will open at 4:45, with tickets being sold at the door for $5.
"The play is a modern version of Romeo and Juliet. It features a lot of pop culture and social media references. It is a comedy instead of a classic tragedy. Romeo and Juliet are the same characters, but instead of being from different families, they are from opposing high schools," Cate explained.
The characters are either from Montague or Capulet High School, with Romeo being from Montague and Juliet from Capulet. In the modern story, the school's soccer teams are in a rivalry. The characters Ty, played by Omar Gearing, and Cue, played by Amaya Martin, are the lead soccer players on the schools' teams.
"I find myself in my role [as Ty] being able to express myself and my creativity, since my role is very dramatic and over the top. This play is more of a comical take though, so instead of my role being completely serious, I have to be humorous," Senior Omar Gearing stated. This is his first year at Central, but not his first year in theatre.
Ty is a different version of the classic character, Tybalt. He is the lead Capulet for their soccer team and is an antagonist of the play. He enjoys his role, however, and likes to stretch himself by playing diverse roles.
Along with the alternate roles in the play, the set and decorations are different from the classic play. The scene changes will have many decorations. For example, a soccer goal and signs for the different high schools featuring their crests, designed by Central's art classes.
Ms. Cate and the theatre students considered many plays before this particular production and took a vote to decide which play they would be performing. The class voted and the majority decided on #HashtagRomeo. The students and Ms. Cate are quite enthusiastic about the play and the twists they put on the story.
"I am very happy for the opportunity of participating in this play. I play Greg; he is a comrade to Ty, the main antagonist. I am very confident in the actors. There have been some bumps, but overall I think we will be very successful," Senior Jacob Sylman stated.
"My students are very enthusiastic, motivated, and excited about this performance. I am excited to see what they do," concluded Ms. Cate.