Central High Mock Election Polling Finds More Students Support Clinton
With 331 votes, Clinton had the most support compared to Trump's 219 votes.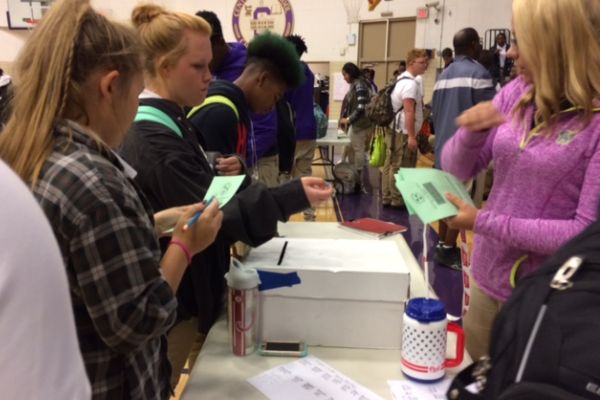 Hang on for a minute...we're trying to find some more stories you might like.
The 2016 general election has proved itself to be very different than what the world has ever seen before with two major party candidates with two of the lowest approval ratings in American political history. Hillary Clinton, a former First Lady, democratic senator, and secretary of state, and Donald Trump, a successful, republican businessman, have been brawling for nearly a year and a half against each other and members of their own political parties. Central High School students were given the opportunity to express who they are supporting for president during an anonymous mock general election that took place on October 27th.
"This election is unique because we have the first female nominee of a major political party and the first nominee of a party that is a business man with no political experience.  Both candidates are very well known because the names Clinton and Trump have been in the news for decades, which means many people already have preconceived notions about who the candidates are," explained Central High United States History teacher, Shawn Seals.
With nearly 70% of the student body participating in the mock election, Hillary Clinton received 331 out of 664 votes which equals out to approximately 49.8% support. Donald Trump only received about 33.0% support, with 219 votes.
"Voting is very important — I cannot stress that enough!  Voting is the ultimate way that we express our opinions in the United States.  There are people in other countries who are fighting wars because they live in countries with dictators that do not allow them to vote.  In our own country, we have troops in foreign countries protecting our freedoms here in America.  We need to make sure we do our duty as citizens and vote for who we believe should lead our country into the future. We should not take our freedom to vote for granted," expressed Seals. 
"
"Voting is very important — I cannot stress that enough!"
— Shawn Seals
The ballot, which was provided by the Tennessee Secretary of State's Office, consisted of several independent and third-party candidates, who received the other 98 votes. Libertarian candidate Gary Johnson received only approximately 7.0% support with 46 votes. Other independent candidates received the following results: "Rocky" Roque De La Fuente 30 votes (4.5%), Jill Stein 16 votes (2.4%), Alyson Kennedy 14 votes (2.1%), and Mike Smith 8 votes (1.2%).
"Voting for whoever you believe will do the best job in leading the country is the best policy, however, the possibilities of them having a change of winning should be factored into voting as well.  I would have to really believe in someone in order to vote for someone who is polling at one to five percent because that person has almost no chance at all of winning," shared Seals.
Nevertheless, the support for third-party candidates has decreased in the national media polling as America slowly progresses to November 8, election day. Most polls, such as concluded by CNN's October Poll of Polls, find that Clinton has a slight edge over Trump nationally and third-party support slipping, despite controversies from both major political party candidate.
"If we do not consider third-party candidates as third-party, it would not be a waste of a vote. We need to consider all of our options," stated sophomore Matthew Frazier.
Regardless of who one supports, voters need to realize the significance of the 2016 election. Citizens are voting for the future of his or her children and ultimately the future of our great nation.
"This election cycle is also very unique because there are major differences in the two candidates and the directions in which they will lead our country, which is the number one reason everyone needs to vote," concluded Seals. "Our voices need to be heard."