Central JROTC Marks 40 Years of Female Membership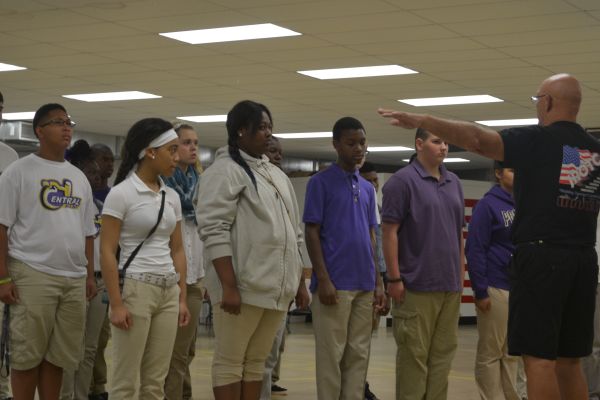 This 2015-2016 school year marks the 40th year that girls have been allowed in the JROTC program at Central High School. Out of about 200 cadets in JROTC, 45 percent are girls, and most top cadets are girls.
"We do not discriminate," Col. Bill Brooks, one of the JROTC instructors, stated.
Autumn Lloyd, the No. 2 cadet this year, described that she would be very offended if she were not allowed to be a part of JROTC because she was a girl.
"That would defeat the purpose of the program," Lloyd explained.
JROTC plays a huge role in many Central students' lives.
"It brought me out of my shell," Lloyd said.
Both Col. Brooks and Lloyd agree that girls have the capability and skill needed to be a part of JROTC. Last year, the drill team was made up of all females with the exception of one boy.
When girls were first permitted to be in this program, they were required to wear skirts. After many years, the instructors took a vote to decide what the girls in the program should wear – skirts or pants. All but a few voted for pants, so skirts are no longer a part of the uniform for cadets at CHS. Lloyd explained that girls can perform the same duties in skirts as they can in pants, but she would be more comfortable in pants. She also thinks that it keeps more equality between the boys and the girls.
JROTC has a long-lasting impact on students' lives after high school. Of the 18 seniors in the Class of 2015 who participated in JROTC, two went into the military. Autumn Lloyd hopes to join them after she attends college next year. The Central Digest is proud of female and male cadets alike who have come through and are still going through the ups and downs of the JROTC program.