Hannah Brings Business Knowledge to Marketing Classes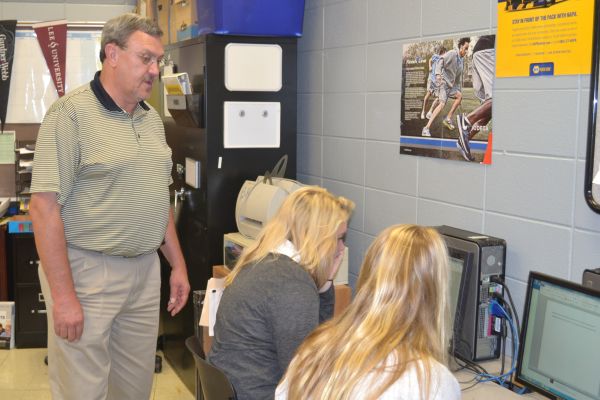 The 2015-2016 school year  has brought about lots of change within Central High. From countless new students from around the country to unique classes now being offered, the school seems to have turned over a new leaf. As a result, numerous students have noticed new teachers walking the pods. Among these educators is Tim Hannah, a laid-back yet precise teacher of business and marketing.
Mr. Hannah has taught for ten years at several different schools. He spent six years at Brainerd High School, which helped contribute to his experience and familiarity with student interaction.
"There's no way I can know everything, but a lot of my knowledge comes from my wife and other friends who work in human resources. They give me advice that I can pass on to my students," Mr. Hannah shared.
Though he taught computer applications at his former schools, his involvement in retail management provides first-hand skills to teach his students at Central who are interested in studying business in college. Hannah's main goal as an educator is to prepare students for the work force as best he can. 
As far as adjusting to Central, Hannah explained that the year is going smoothly, and he is eager to to see how each class's proficiency improves. So far, his only concern is the drastic change in the amount of students within his classes from school to school.
"At Brainerd, I may have only had around 50 or 60 students total throughout all my classes, but here [at Central], I have around 120 students!" Hannah expressed.
Not only is Mr. Hannah excited to be at Central, but his students are pleased to have him as well. Multiple seniors who take his class, including Tanner Mowery and Emmanual Lane, agree that their teacher is an easy-going guy who gets his points across clearly. They also noted how thorough and detailed Hannah's teaching style is, no matter how short or long the lessons are.
"I'm interested in taking Mr. Hannah's class so I can learn more about designing flyers and making money for it. I enjoy designing things. That's definitely my favorite part about the class," Emmanual explained.
Overall, Hannah is very enthusiastic about joining the Central family in addition to getting to teach his trade to all his new classes. He is eager to see what each grade can learn from him as well as what he can learn from each student!