New Geography Teacher Kribs is Oregon Native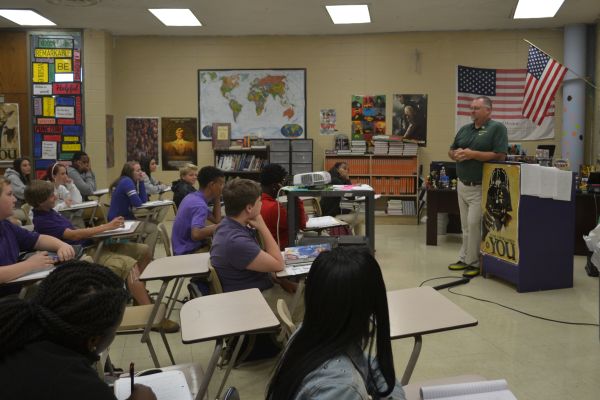 Central High School is always excited to welcome new teachers to the Purple Pounder family. This year, the Central Digest is pleased to introduce Mr. Chris Kribs, a 9th grade world history and geography teacher.
"It's been fantastic so far. Students have been amazing, and teachers have been helpful and great to work with," he explained.
While this is Kribs first year teaching at Central, he has lived and worked in Chattanooga for the past three years. Prior to living in Chattanooga, he called Oregon and Nevada home.
"I started out attending the University of Oregon, then transferred to Western Oregon University," Kribs recalled. "I then attended Grand Canyon University, where I got my Master's degree."
Being from Oregon, he is a very devoted Oregon Ducks fan and also a huge Star Wars guy.
"My favorite Star Wars character is Darth Vadar," Kribs expressed passionately.
Upon entering his classroom, it would be hard to miss his other interests such as "The Walking Dead", 80's rock music, and his love for history, which can be observed from the collection of posters plastered around his classroom and the music coming from his room. Additionally, Kribs enjoys cooking and coaching.
"I love cooking, especially participating in chili and ribs competitions," he said. "I also love football and track."
While the new teacher on the block is enjoying Central, his students are loving him and his class.
"He's awesome. He's one of those teachers that can relate to the students," shared Brittany Hoang, who is part of Kribs' seventh period class.
"He's a really funny teacher. I love his attitude towards teaching," explained Cheyenne Robinson, another student of his.
The Central Digest looks foward to great things coming out of Mr. Kribs' classes and hopes that he is here to stay.