Foreign Exchange Students Say "Auf Wiedersehen" to Germany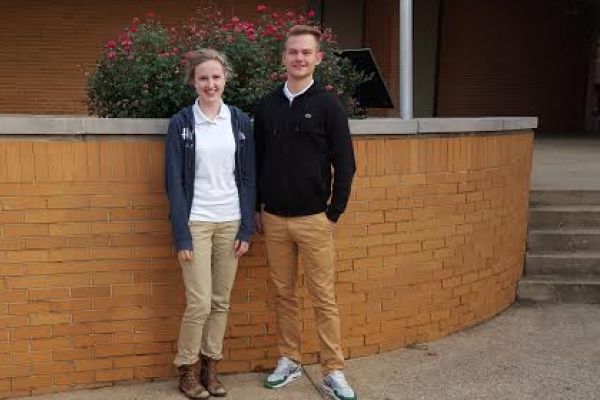 Central High School is very excited to welcome two new exchange students to the Purple Pounder family. Both students, Johanna Degel and Finn Wesserling, are from Germany and will be living in Chattanooga for this next school year.
Johanna Degel had high expectations for her American exchange student experience.
"If you see American high school movies, you always see big buildings with a lot of students. They go to school, have cool subjects, and after school, they take the school bus to come home," she said. "The teachers and the students are very nice and friendly, and a lot of students take the bus. I like to be here."
Johanna explained some of the contrasts between American and German schools.
"The school in Germany is very different. My school day started at 7:30 a.m. every day and finished some days at 4:05 p.m. I think last year I had 16 or 17 subjects, and every day we had different subjects," she shared.
In her free time, Johanna enjoys riding her bike, walking through peaceful alleys, watching movies, and dancing. She misses her family back in Germany, but she is already starting to love her new host family. They are a married couple who enjoy doing fun things with her.
"My favorite thing about being here is that you make new experiences every day. My least favorite thing is to take the car if you want to go to another place," stated Johanna.
On vacations, she would like to come back to America and visit her host family, with whom she is already forming a great relationship.
"First I want to finish my school, and after that I want to go to college and study medicine," shared Johanna.
The second exchange student, Finn Wesserling, is very proud to be a part of Central.
"Central is the first step in a new part of my life – my high school life. I'm feeling so good to be in this school; everybody is so friendly and [there are] good teachers," stated Finn.
Some things that surprised Finn about Central were the start time and the dress code. His school never started before 8:00 a.m., and they could wear whatever they wanted.
Finn's hobbies include hockey, American football, and hanging out with friends.
After high school, Finn wants to come back to the U.S. and study and live here because he loves it here so much.
These two students are off to a great start, and the Central Digest wishes them the best of luck in their high school careers – both here and at home.