Algebra Is One of New Math Teacher Mrs. Mielke's Favorite Subjects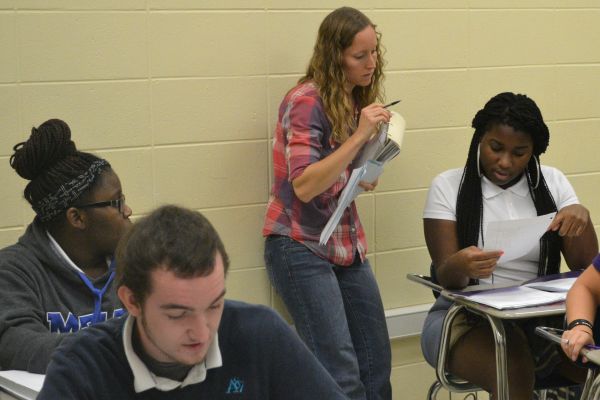 Students at Central High are accustomed to seeing the same seven or so teachers once a day, 180 days a year. That being said, it is an exciting occasion to see new faces roaming the campus. This year, we not only welcomed our new freshmen and foreign exchange students, but also new teachers.
One of the newest members of the Pounder family is Ashley Mielke. Mrs. Mielke graduated from Samford University in Birmingham, and she is now going into her seventh year of being an educator.
"Math is easy to me," Mielke shared. "Geometry and algebra are my favorite things to teach. I taught history for a while, but it's easier to find a job teaching math than it is teaching history."
Even so, she loves molding the minds of students no matter what she is teaching. Mielke explained that she does deal with a lot of students who do not understand math very well, and she has found that the best way to keep her students engaged and on track is to walk around the room to ensure help is there when it is needed.
"The best advice I can give to those who struggle is ask questions. Ask lots of questions," Mrs. Mielke encouraged.
Though she is very dedicated to her teaching, Mrs. Mielke loves to spend time playing with her children and being with her family. Mielke said that her adjustment to Central has been fantastic, and she loves being a part of the team.
"My students are great – there's always those few who mess around, but overall, they're awesome," she stated.
Her students also seem to be enjoying their new teacher.
"She's really nice and helpful," said Brandon Johnson, one of Mrs. Mielke's Algebra II students.
The Central Digest is delighted to have Mrs. Mielke join the Purple Pounder family and excited to get to know her throughout the year!