Central's Populations Increases by 46 to 962; Boys Outnumber Girls by 60 Students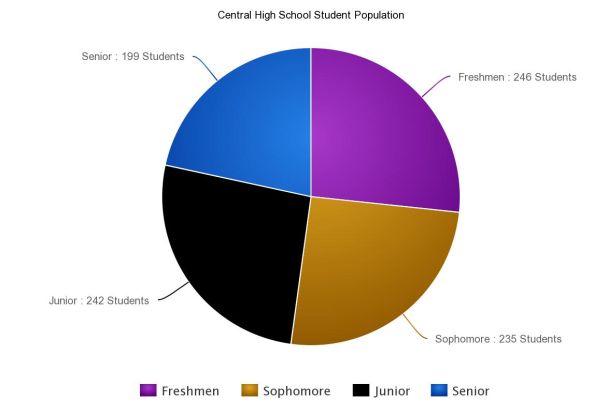 The final school population count of all Hamilton County schools was taken on Thursday, September 4. Central is roughly the third or fourth largest school in Hamilton County. Ooltewah and Soddy Daisy have the most students while East Hamilton has about the same number as Central.
"I think that this school is on track to being the first or second largest school in the county," noted Principal Finley King.
There is a total of 962 students attending Central High School this year, according to the final count taken last Thursday. There are about 510 boys and 450 girls. Last year, 916 students went to Central, so the population of our school has increased by 46.
The senior class has 199 students. About 100 are white, 90 are African American, and 6 are Hispanic.
The junior class has 242 students. Around 130 are white, 100 are African American, and 10 are Hispanic.
The sophomore class has 235 students. There are about 130 whites, 95 African Americans, and 10 Hispanics.
The freshmen class contains the most students of all the grades. Out of about 256, there are around 130 whites, 100 African Americans, and 24 Hispanics.
Central is a very diverse school. Besides having whites, African Americans, and Hispanics, we also have some Asian, American Indian, Pacific Islander, and biracial students.
Mr. King thinks that having such a mixed group of students is a positive thing.
"You get to build relationships with people who don't look like you, talk like you, or act like you," explained Mr. King. "It is important to be friends with people who have a different race than you."
Freshmen counselor and Central alum Karen Atkins agrees with Mr. King. She believes that diversity makes our school a better place to learn and grow.
"Everyone gets along. I don't feel like there are any issues," stated Mrs. Atkins.
The Central Digest is excited about the population increase in our school and appreciates the diversity of its students as it becomes a better place to learn.