New Teacher Jeffrey Mullins Understands Student Struggles With Math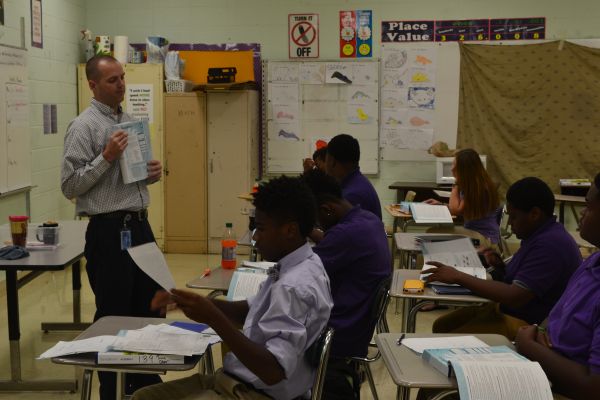 Many exciting changes have come to Central High this school year, and one of these changes is the new Algebra I and Geometry teacher, Jeffrey Mullins. Mr. Mullins graduated from Florida Southern University in Lakeland, Florida. After graduating, he found a job teaching middle school math in Florida and then started teaching high school Algebra and Geometry a few years later. Now located in C-Pod of Central, Mullins is sharing his knowledge of arithmetic and giving advice to kids who struggle with math.
"I was a late bloomer, mathematically. I didn't start getting it until about tenth grade," Mullins shared.
"It's okay to need help – it's not okay to not get it. I'm bad at golf, but I'm sure if I dedicated my time to practicing, I could be very good at it," he added.
Mullins is not only helpful in the classroom, but he also advises his students to Google "Mr. Mullins' Math Class," where they can find videos with step-by-step instructions on how to do any and every problem. Students are to watch the videos prior to class so class time is spent practicing what they have learned.
"I'm excited to have him as part of the staff," shared Edward Potter, head of Central's Math Department. "He's got a lot of experience, which is good, and he seems to have a very positive attitude."
When Mullins is not at Central, he likes to spend time with his two daughters and wife doing activities such as hiking and gardening.
Mr. Mullins seems to be excited to be at Central, and the Central Digest is very pleased to welcome him to the Purple Pounder family.