After Rescheduling, Seniors Top Juniors in Powder Puff Game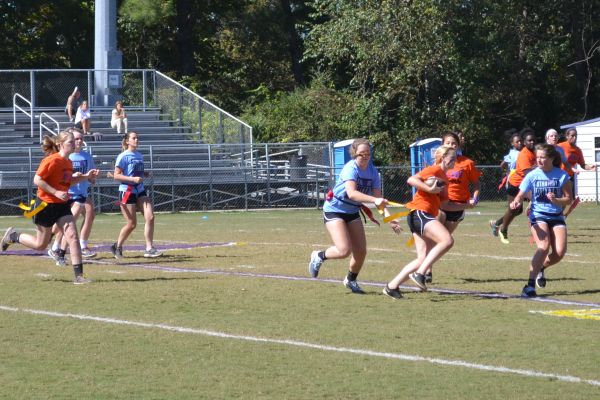 Homecoming Week is highly anticipated at Central High School – students get to scrap their khaki pants and polo shirts for a more wild approach. This year's themed days included Tacky Day, Sports Day, Camouflage/America Day, Gender Swap/Twin Day, and Central Spirit Day. Most students went out of their way when it came to dressing up – guys wore fake cleavage, girls wore tank tops, and one student resembled a bush.
Yet weather reports and a hurricane that brought heavy rain to the southeast put a damper on Central's annual festivities.
"The rain before the break and the forecast made it clear that it was going to be a very wet night. The Corvettes already cancelled their appearance on Thursday afternoon. It wouldn't be very honoring for the girls to walk on a flooded field. They deserve a homecoming that is special just like every other homecoming," stated Principal Finely King.
This is not the only year that Central has had to move the event.
"We have had to reschedule these events in the past, not only Homecoming but Senior Day as well," he expanded.
Students were disappointed about the change, but they understood that it was necessary.
"I'm bummed that we did not get to find out who won. What really affected me was that they rescheduled everything that day, even the dress code. It is a good decision because the field would have been muddy and wet, and the homecoming court's outfits would have been ruined," commented junior Kymmy Stacks.
After waiting two weeks, students finally arrived to the most anticipated game of the year – Powder Puff. During this game, the ladies of the junior and senior classes compete in a lighthearted game of football. That is not to say there was a lack of tension between classes.
"I'm rooting for the juniors because that's my class. They have all practiced very hard. It's going to be a close game because we have the same amount of talent on both teams," she expressed.
The final score was 21-7 with a win for the seniors. Both teams played well, and there was minimal drama. The Central Digest looks forward to keeping the traditions of Homecoming and Powder Puff alive for many years to come.