Coach Carter Finds Hobby in Making Sport-Themed Pallet Signs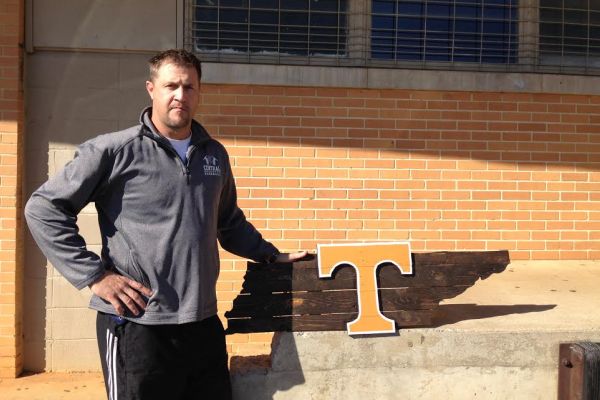 Outside of school, teachers are just like students in that they enjoy hobbies and activities with their families. Recently, gym teacher and baseball coach Glen Carter has taken up a new hobby of building state- and college-themed signs out of reclaimed pallet wood.
"I first got involved in woodworking classes in middle school. By eighth grade, I realized woodworking was something I actually liked to do," recalled Carter.
Pallet signs are a very trendy medium for decorating and displaying things from sports teams to inspiring quotes.
"I started making my own pallet signs in my free time between spending time with my family and coaching baseball and football. I am one of those people who cannot sit still and watch television for an hour. Making the signs keeps me busy," explained Carter.
Carter has had experience making various state-themed signs from popular sports team logos like Tennessee to teams all the way in California.
"I've only sold about ten to twelve signs. I mainly find time to build them in the winter between coaching football and baseball," shared Carter.
Carter has been selling the signs, in both small and large sizes, for $30 or $50. The finish is composed of natural stain that goes along with the main plain state or state plus college letter pallet sign.
"You can find them all over the Internet for sale. I just charge people for the supplies such as the stain and paint. I am not really in the market to make a profit," said Carter.
The Central Digest encourages students to pursue and participate in new activities because you never know what you will end up enjoying!
About the Contributor
Preston Fore, Editor-in-Chief
Hi! My name is Preston Fore. I am currently a senior at Central, and this year will be my fourth and final year on the Digest; I am very grateful to serve...