Central Band Members Get Accepted Into The All East Honor Band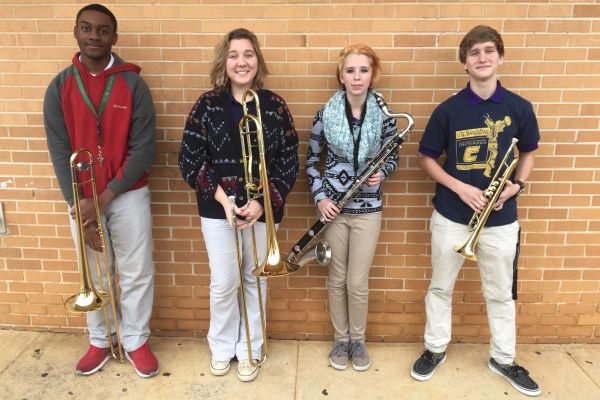 At Central High School, the concert band attends many competitions and festivals, but one of the main events students can audition for is the All East honor band. For the audition, the student must perform two prepared pieces of music, five chromatic scales, and sight read three pieces in front of said number of judges. From there, if a student is deemed good enough, they are placed in the band, and their audition also judges which seat they are put in. For example, there is a first-chair, second-chair, and so on.
"It was very nerve wracking, although I have auditioned for bands like this before," stated freshman concert and marching band member, Georgia Teems. "Considering of the abilities I am capable of with the base clarinet, I did expect to get in, although I did not expect to get the placement I got, I was very surprised," Teems added.
Teems was not the only person to be accepted into All East band, though. Hannah Stone, Darius Campbell, and Josh Bolton also won the approval of the judges and claimed their spot in the All East honor band.
"Auditioning for All East was very stressful for me, but on the other hand, it was pretty fun," expressed another freshman concert and marching band member, Joshua Bolton.
"I wasn't too nervous when it came to being in front of the judges, but the anticipation of waiting to hear if I made it or not was awful. I did not really expect to get in because I am a freshman, but I am so ecstatic because I did make it," Bolton added.
Bolton and Teems feel as though they've shown they can perform just as well as the upper classmen, and the Central Digest is very proud of them. The Digest staff is also incredibly proud of Hannah Stone and Darius Campbell for their accomplishments. This year is the first any of these students have been accepted to the All East band and we wish them all luck in years to come.
About the Writer
Josh Sizemore, Staff Writer
Hey girl Hey!! My name Josh Sizemore and I am in the 10th grade. My favorite classes are World Religions, Concert band, and English. I am in Central's...