MIST Trial Day Proves to be a Success for Central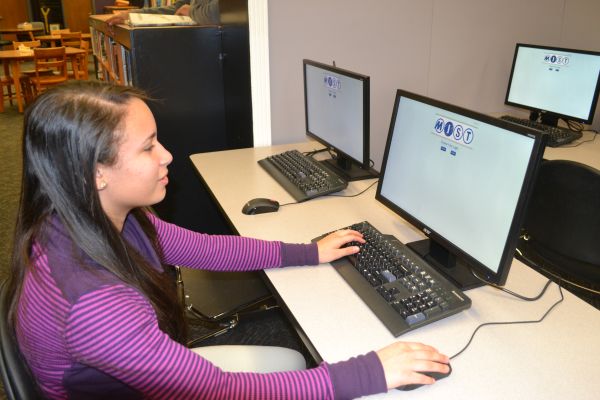 Here at Central, a new online testing program called MIST, or measurement incorporated testing program has recently been added. This allows students to get away from paper tests, and also makes the grading process much faster and easier. The MIST program helps students become familiar with using computers more often because most jobs today are incredibly electronically oriented.
"Students will hopefully do better on testing because teens are so comfortable on computers, this program will be less intimidating than pencil and paper," stated Lindsey Ruggles, Central's senior counselor.
This online testing also allows a more secure test delivery system and has two interfaces, one for students and one for test administrators. It functions like an app and must be downloaded to the computer prior to testing, but can be customized depending on the testing taking place. It even ensures that students can not cheat because it gives each test in a different order, so students would not be able to peek at their neighbors' answers.
"I think this program will be easier and smoother than paper, I just didn't like that you can't go back and change answers," revealed sophomore Cassidy Simms.
The program was tested by sophomores on Tuesday, January 12, and it turned out to be a very smooth process, not giving students any problems. However, at other schools in the county, there were a few minor problems with the internet connection, which was blamed on so many people using it at the same time. Luckily, that's the only major downside to this new program discovered so far.
"There are always opportunities for something to go wrong because every time testing is different. If the power goes out or the server goes down, then all the plans have to be changed and the testing has to be moved," Ruggles also revealed.
Programs such as the MIST test show that pencil and paper no longer rule the school and that computers are truly the way of the present and future.
About the Contributor
Matthew Davis, Assistant Editor
Hi! I am Matthew, and I am a Senior here at Central. I am a member of the Central Sound marching, concert and jazz bands (award winning bands, btw!). I...