Summer Hansard Returns to School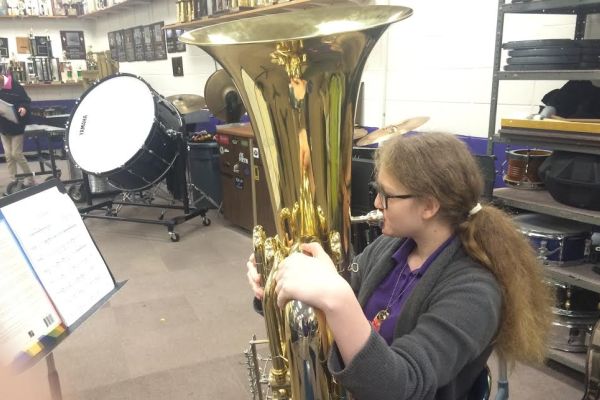 Staff Writer, Savannah Smith
February 16, 2016|50 Views
Summer Hansard, a freshman at Central High School, went through several traumatizing events that changed her life forever. After recovering from multiple surgeries and having to relearn basic skills, such as walking, she is now returning to school.
Last June, freshman, Summer Hansard, was in a life-altering ATV accident. Summer, being her first time driving an ATV, crashed and fell off the ATV. After the accident, Summer soon began to act strange. She began having emotional changes and could not remember anything that happened in the previous hour. Her parents then rushed her to the hospital and received news that no one expected. Summer was diagnosed with a tumor on her cerebellum.
Not long after the discovery, Summer went through two different surgeries to remove the tumor. These surgeries not only got rid of most of the tumor, but also handicapped her basic skills, such as walking and talking. After she began some therapy, Summer went through another surgery to put a drain in her body to release any excess fluid in her brain and still has it today.
After spending months in the hospital recovering and going through therapy, Summer missed the first semester of school, which really brought her down. Last year as an eighth grader, Summer participated in the marching band at Central and played sousaphone. Due to the accident, Summer could not participate in the band or go to school, but that didn't stop Summer from feeling better.
"We had a meeting, when she started feeling better about her coming back to school, but all she was focused on was coming back to school and we are so excited to see her," stated band director, Mr. Bloodworth.
By the beginning of second semester, Summer was walking, talking, and even playing her tuba in class!
"I love school and even missed seeing my friends. I was really excited about band the most. I missed band so much… band is my life and when I found out that I couldn't be in it last season, I was so sad," Summer Hansard shared.
Summer may only attend school every other day because she is still involved in physical therapy, but Central and the Digest staff are proud of her for regaining her spirit and coming back to school. Hansard  is still in therapy and continues to get better every day.