Class of 2016 Valedictorian and Salutatorian Officially Announced
Snakenberg, Beach take top two academic honors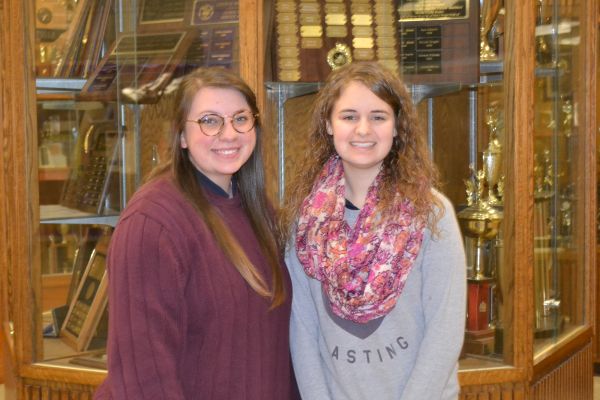 The wait is over; The class of 2016's valedictorian and salutatorian have officially been announced. On Friday, February  5, Mr. Finley King jumped on the afternoon announcements to declare that the title of salutatorian would be given to Emma Beach and the title of valedictorian would be given to Jadyn Snakenberg.
Beach having a 4.0 GPA and 28 ACT score, participates in softball and volleyball, where she has won several student athlete awards, and has been involved with FCA and student government since freshman year. She is an active knitter and crocheter, and has recently dedicated much of her time to caring for birds at the HappiNest Wildlife Sanctuary.
"My reaction was mostly squeals and giggles," admitted Beach, "I was with my friend Sam, who stepped on my foot in a fit of excitement, and we ran around B-Pod together giggling and jumping. I was very excited."
Snakenberg has a 4.0 GPA and an ACT score of  31. She has been apart of the Ruriteen club since freshman year and has served as chairperson on the superintendents student advisory counsel. Beginning her sophomore year, Snakenberg has also been the copy editor for the Central Digest. She is passionately involved with her church, where she plays instruments like guitar, keyboard, and ukulele in her church band.
"A lot of people were telling me I might get the title, but I did not want to get too excited because I knew it would be close.  I was super excited when I heard the news, though," explained Snakenberg.
The two have worked diligently throughout their high school careers and certainly earned their ranks.
"Becoming one of the top in my class was a goal for me since I got into high school. My family was extremely proud of me. It was something that they always wanted, but I always had self motivation," Beach expressed.
"[Being Valedictorian] was not an incentive for me to work hard and take honors classes. It was more about challenging myself and being the best that I could be. It is a great feeling, though" stated Snakenberg.
Beach plans to attend either Auburn University or University of Tennessee Knoxville where she wants to study Environmental Engineering. Snakenberg is undecided on where she wishes to attend college, but is determined to become a teacher and missionary. Both Beach and Snakenberg have bright futures ahead of them, and the Central Digest congratulates them on a job well done.
About the Contributor
Justin Metcalf, Staff Writer
Hi! My name is Justin. I'm a senior and this is my third year writing for the Central Digest. Journalism is my passion and I hope to lead a successful...