Senior Emma Beach Receives George Washington National Medal of Honor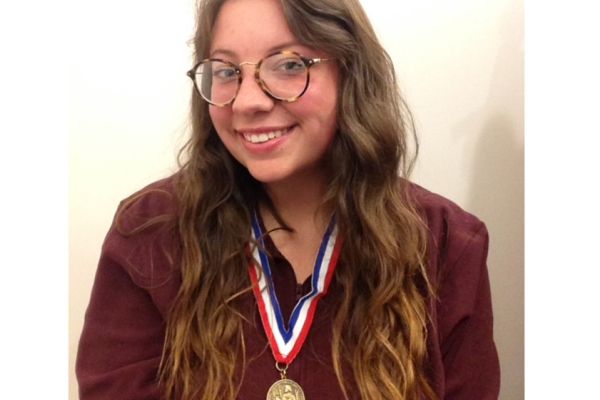 Senior student Emma Beach is known for her many talents – singing, knitting, and now, writing! Throughout her junior year of high school, Emma wrote many very impressive essays. One essay in particular focused on rejecting apathy in democracy. Beach had absolutely no idea that her paper would soon qualify her for many educational opportunities.
A small group of hardworking students, including Emma, qualified for a trip to Philadelphia based on their writing. Students from all across the nation were placed together, four of those students being from Hamilton County. While on the trip, students received a more in depth look on the foundation of the United States, and learned more information on its founding fathers.
"I met so many new people from across the country. I'm still friends with some of them to this day. We brought each other small items that reminded us of home. Some brought Mardi Gras beads or key chains, – I brought Moon Pies. They loved them," shared Beach.
Later on, the same students' papers were sent in for another national contest to compete for the top essay percentage in the United States and Emma's extraordinary essay won her another medal. She then received another incredible opportunity and attended a luncheon with superintendents, congressmen, and other officials who applauded her hard work.
"Overall, my favorite part about this whole experience had to be forming amendments. The leaders of the trip proposed amendments to us, which we had to revise and edit to make them sound official. It was really cool to be a part of and to feel like a member of Congress," Emma concluded.
These accomplishments will aid Emma in the remainder of her high school year and beginning of her college career.
About the Contributors
Samantha Scott, Staff Writer
Hey there! My name is Samantha Scott. I am a senior this year, and I enjoy playing sports and writing! I have been the varsity liberro, or defensive specialist,...