Central's Top 10 Percent of the 2016 Graduating Class Recognized at Annual Superintendent Honor Banquet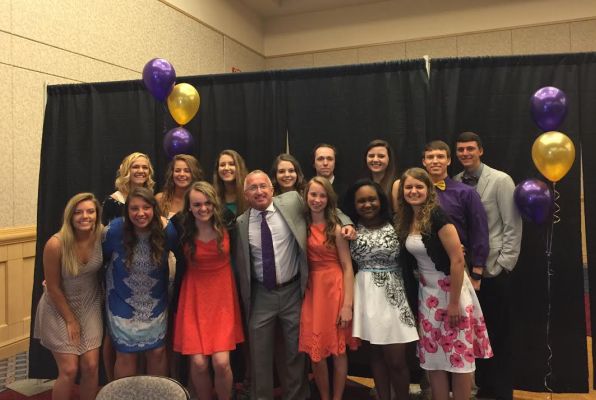 257 graduating seniors, accompanied by friends and family, from Hamilton County's 17 high schools gathered together for the 35th Annual Superintendent Honor Banquet. The event was held on Tuesday, April 5th, at the Chattanooga Convention Center. Participants that were honored at the celebration were determined by the highest Grade Point Averages from the first semester of the 2016 graduating class.
20 students from Central High School attended the banquet, a proud evening for Central High School's principal, Finley King. Each student was honored with a certificate commemorating their academic achievements. They also received a certificate that guarantees students the opportunity to return to any Hamilton County school as a teacher.
Dr. Kirk Kelly, one of the acting co-superintendents in the wake of Mr. Rick Smith's resignation, attended the banquet with plenty of kind words to say about the accomplished teenagers who were invited to the celebration.
"It is a privilege to recognize these students for their outstanding academic achievements. These students are the future of our community and they are being honored as the best of our 2016 senior class. Their accomplishments in high school will serve them well as they build on the foundation of their education in Hamilton County Schools," expressed Dr. Kelly.
At the end of the meeting, Central's senior class showed just how close students at Central High School really are. Whilst other school's students, friends, and families were leaving the event, Central's students stuck around, hugging and laughing with their fellow classmates, even catching a group photo with Mr. King before heading home.
"I looked around after it was over, and everyone was leaving. Except our students, who were over there talking to each other and doing group pictures. No other high school [really] did that, and, while I'm sure they had a good time, I think it just shows how close-knit [our students are] and how much our students just enjoy each other," exclaimed Mr. King.
King was above and beyond impressed with the students who represented Central High at the banquet. The students were also proud of their achievements and honored to be recognized at this event.
"It was a nice event and it was nice to see how many people in our county that are working hard and are successful. It was nice to see that there are still good things coming out of Hamilton County in contrast to the recent things have been on the news involving Hamilton County student," said Peyton Eddy.
The Superintendent Honor Banquet was a success and the Central Digest congratulates all of the recipients of this prestigious honor.