Central Gets Third Place in the "Envirothon"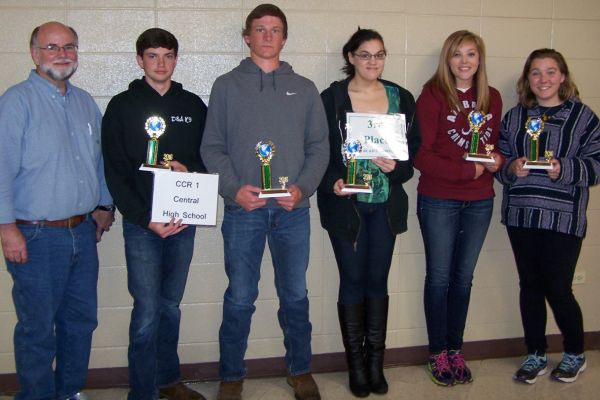 Central's team of elite student scientists went to Chester Frost Park to compete in a competition known as the "Envirothon" on Thursday, April 14th. The students were asked a plethora of questions about aquatic biology, soils, forestry, wildlife, and invasive species. Hannah Stone, Shelby Campbell, Shasta Faile, Tucker Smith, Doug Bell, Mr. Evans, and Mrs. Sellers make up the team of students that competed in the event this year. In this rigorous competition, Central came out in third place, followed by Bradley Central in second and McMinn High in first.
"Envirothon is a hands-on environmental competition for students grades 9-12 which encourages cooperative decision making and team building. It teachers students about natural resources and current environmental issues," explained Donna Sellers, Aquatic Biology and Anatomy teacher. "Since these topics — other than aquatics — are not taught in school curriculum here at Central, the students used their individual study skills and time to learn the material online."
"Only one member [Shasta Faile] was returning from last year, so the excitement and anticipation was high for the group," stated Dillard Evans, Physics and Environmental Science teacher. "I think that may have contributed to the amazing success this year!"
Shasta Faile was the only returning member of the Envirothon team. She competed with the team last year, where they placed fifth. Faile was absolutely ecstatic about the team's third place this year, after working hard studying and practicing.
"It was an incredible and unforgettable experience and the feeling of representing our school, even such an insignificant event, was memorable beyond anything else," stated Faile. "I had the best time at the Envirothon and based on the atmosphere, I'm sure everyone else had a blast."
This commitment these students had to the event really paid off. They are looking forward to next year with plans to win the first place trophy.
The Central Digest congratulates the team on their success this year and has high hopes for the team next year!
About the Contributor
Josh Sizemore, Staff Writer
Hey girl Hey!! My name Josh Sizemore and I am in the 10th grade. My favorite classes are World Religions, Concert band, and English. I am in Central's...