Speakers Announced For 2016 Graduation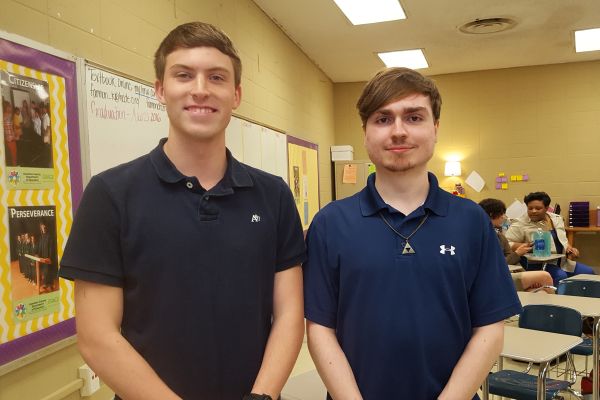 The class of 2016 is in the final stretch of their high school education as they wrap up their final days at Central High School. May 21st marks graduation, and their is one final hurdle standing between the students and their diploma: speeches.
The valedictorian and salutatorian are pre-determined speakers at the ceremony. However, the Student Representative and Faculty Representative are voted on by their peers and teachers. Students were given a sheet of Central's best and brightest to choose from. Teachers, on the other hand, had a meeting and chose their students after discussing the matter.
This year's representatives are Tyler Colston and Jake Denton, respectively.
"Story" is the theme for graduation, so it is not surprising that Colston's speech is entitled Only a Chapter.
"I have never really written a speech before, and I think that will be the most challenging part. As far as speaking goes, I am nervous," he expressed.
Living Your Story is the title of Denton's speech, and it is the furthest thing from a sentimental farewell to his classmates.
"I want to avoid being sappy when I speak. I feel like the other speakers are doing their speeches from that angle," he explained.
The criteria for the speakers require that the speeches be short, sweet, and around 2 – 3 minuets long. Mrs. Fannon and Mr. Daum, English teachers at Central High School, revise their writing. They start coaching the students on May 9th, almost two weeks before the event.
Other featured speakers included the 2016 valedictorian, Jadyn Snakenburg. Her speech is titled Go and Tell. Emma Beach, the 2016 salutatorian, is speaking as well. Live and Learn is the title of her speech.
This year marks the 109th graduation Central High School has participated in. Seniors will be sitting in their seats, listening to the speakers with anticipation as they wait for the moment their name is finally called and they get to show their Central Pride in their purple and gold gowns.