Central Pounders Say Farewell to Science Teacher & Upcoming Retiree, Mr. Evans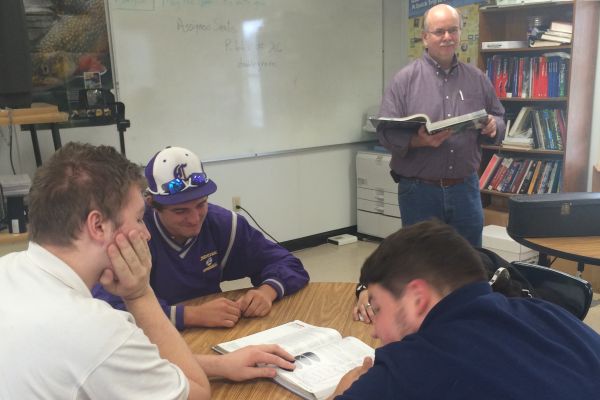 As the school year comes to a close, we not only say goodbye to many students, but a special teacher as well. Mr. Dillard Evans is finishing his teaching career and retiring after 11 years of being a Pounder. Though he will be missed, Mr. Evans has contributed to countless graduates in his many years of teaching not only at Central, but all around the area as well.
As the valedictorian of a small high school in Cleveland, Tennessee, Mr. Evans continued his education and later graduated from the University of Tennessee at Chattanooga in 1973. Considering his father was a teacher and a principal, as well as his aunt, uncle, and siblings being involved with education, teaching seemed to be a natural fit for Evans. Therefore, he began his career by teaching in accredited schools throughout Chattanooga, Cleveland, and Atlanta, and would do so for the next 22 years, half of those precious years being at Central.
During his 11 years as a Pounder, he taught numerous AP, Honors, and other general courses. He taught Physics, Chemistry, Ecology, Environmental Science, Aquatic Biology, Physical World Concepts, and Physical Science. Each was very successful and placed in a classroom in a lower portable near the woods by Central's football field.
"The first two and a half years were just fine. We had trees and were able to visit wetlands for Ecology and Environmental Science. However, since the construction behind the trailer area began, the last two and a half years have been a struggle with erosion problems and lack of trees for environmental courses," Mr. Evans explained.
Not only has Mr. Evans been a valuable teacher, he has also been a leader for clubs throughout Central. His main role has been the adviser of the National Honors Society, where he has guided students towards completing various community projects and volunteer work.
Throughout his entire teaching career, some of his best teaching memories include going back to his alma mater and teaching there for four years until the school closed.
"Some of the students remembered me being a student – that itself built a strong connection," Evans reminisced.
As for Evans's time at Central High School, he will always cherish the projects he completed with the National Honors Society and extracurricular clubs, but most of all, he will forever remember seeing 11 years of students at their graduation ceremonies walking the stage.
"Students, my advice for you would be [that] procrastination does not work. To be successful, work your projects as you go along, rather than last minute. As for teachers, "hang in there," and enjoy the moments, good or bad. It will only make yous stronger," Mr. Evans shared.
His plans after retiring include a few small projects he plans to work on for the next year or two. Dillard Evans looks forward to what the future has to bring for him and his family, but he will always happily look back to his times as a Central Pounder.