Historic 1907 Bell That Rang in Both Central Buildings Donated by Longtime English Teacher Marjorie Ogle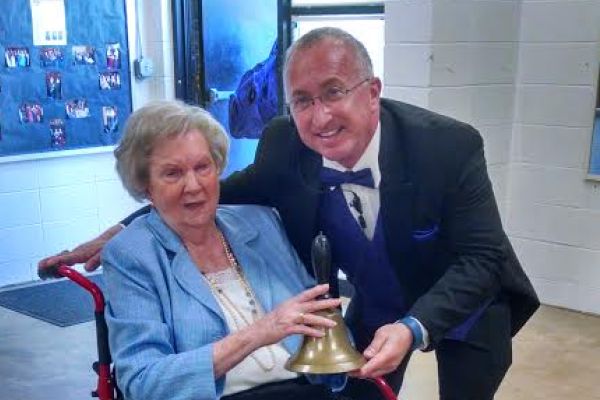 Central High School opened in 1907 and has had many memories for the past 109 years. Along with holding these memories, a lot of history has influenced Central High School for years. One example is the famous school bell that came from the old Central High School when it was first opened in 1907.
The bell was used for class changes, only when the power went out at the school. During an event such as this, one of the assistance principals of the school, such as Mr. Wiley Everett O'Neal, would step out of the school office and walk to the second floor to the famed Rotundra, which was similar to what we call the agora. He would then begin to ring the bell and the ring could be heard all around the school which signaled a class change..
The famous bell was then moved to the new Central that was built in 1968 and kept with the assistant principal, Mr. O'Neal for years to come.
Mr. O'Neal then retired in June of 1970 at Central High School. The bell then was donated to English teacher, Marjorie Ogle, who had been teaching at Central since 1957,and now has been donated to the school.
"The bell may have originated before his tenure, since the original building was opened in Jan 1908. Coincidently, Mr O'Neal may have taught Miss Marjorie Ogle; their paths surely crossed while she was a student ('45) before returning to teach.When the school moved to Harrison for the Fall term of 1969, the bell came with Mr O'Neal. A new building has its quirks and Central was no different" stated Buffy Hoge, a member of the distinguished alumni. After his retiring, the bell was then given to Ogle and was then donated to the school." stated Buffy Hoge, a distinguished alumni of Central.
On Senior Day this year, Ogle was inducted into the distinguished alumni and donated the bell to Central High School and to Mr. King.
"It was an honor to receive the bell and it means a lot to me, a Central alumni, and to the whole school." stated King.
Today, the bell is placed in King's office as a trophy from the old Central High School. We, at the Central Digest, are grateful for the history of the school and are so glad to see all of the elements that make Central the school we love today.
About the Contributor
Savannah Smith, Editor-in-Chief
Hi, my name is Savannah! I am a senior and this is my third year on the Central Digest Staff! I am the Editor-in-Chief for the Digest and I would...