Hooper Is Central's New Gifted Teacher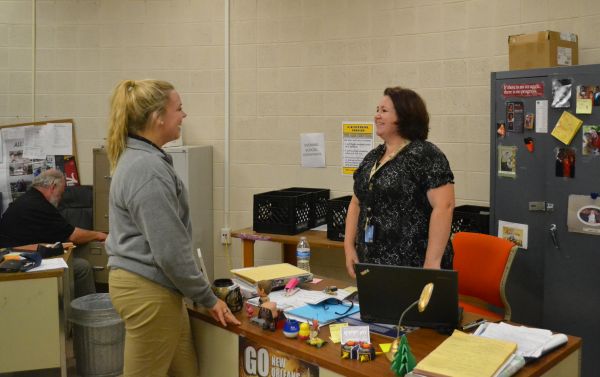 With every new school year brings new experiences and opportunities for both students and teachers. This school year, at Central High School, we were greeted by a new face, Ms. Danielle Hooper, the new advanced studies instructor.
"Out of all the schools I have worked in, Central in the most well run machine I have seen. The students seem to be great!" exclaimed Hooper.
With 13 years of prior teaching experience from varying subjects of: French, Government, World History, AP U.S. History, Economics, AP Art History, to even Freshman Year Experience, she has traveled from school to school dedicating herself to her students' education.
"As a child I loved playing school and even made my mom buy me a roll book," explained Ms.Hooper. "I am so miserable when school is out because I love interacting with so many students as a regular classroom teacher. I can not think of doing anything else!"
Along with being a dedicated teacher, she also takes on the challenging, but also one of the most fulfilling roles of being a mother. Being a school teacher as well as a mother has given her some perks.
"Teaching gives me the opportunity to share a similar schedule and spend holidays with them." phonated Ms. Hooper.
However with every perk follows a disadvantage.
"On the downside, some days, I am so tired of teenagers, my patience wears thin with them. I always feel bad about that," stated Ms. Hooper. " You have to find balance between the two. Sometimes my children have said I spend more time at school with my "school children" then I do with them. That was an eye opener."
Upon meeting her, anyone can tell that she has more than a unique personality. You are greeted with an intense amount of enthusiasm that just seems to radiate out of her.
"She seems rather nice, if a tad too outgoing for first thing in the morning. She really caring about making sure every student is heard," commented a junior in her advisory class, Kathleen Cimino.
If her energy alone is not enough to wake you up, her remarks packed with personality are just as equally eye opening as her presence.
"I would love a side job as being the secretary of the President of the United States, because I would know everything and I love to manage people in the sense of telling them,' The President does not have a moment in his schedule to see you now,'" commented Hooper.
Her students always come out of her class fairly amused and have began to develop an interest in her, if not at least an appreciation for her energy.
"She is awfully enthusiastic about teaching," explained a sophomore student of her advisory class, Christian Thomas. "Even after I have met her, she still is so enthusiastic about teaching. She tries and succeeds in making things more interesting."
Once again, the Central Digest and Central High School welcomes you Ms. Hooper, to the family and hopes that you will decide to stay and continue to spread your glow!