Central's New Fashion Design Class Aims to Sketch and Craft Creative Garments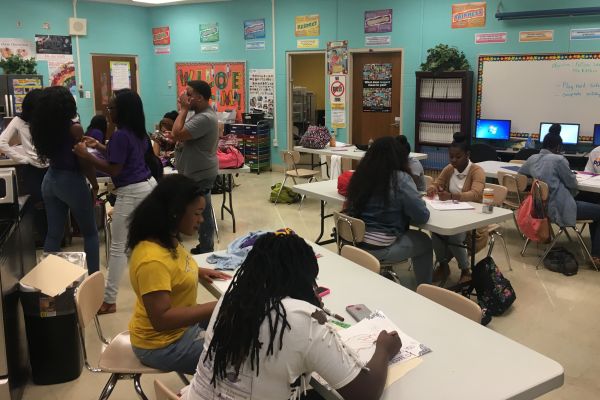 For the first time in Central High School's history, a curriculum devoted to fashion design is now available to those interested. The students that have eagerly registered for this course since May of 2016 were ecstatic once it was a declared that Mrs. Doris Coulter, the instructor for human studies, would take on the rewarding challenge of nurturing this course into something phenomenal.
"If anyone is to teach this class, it has to be Mrs. Coulter. She has the patience, adept knowledge, and is more than willing to help students learn not only as a group, but also takes the effort to help each student as an individual," explained Angel Smith, who is a junior involved in the fashion design course.
The fashion design career path has four classes. It is required that students take Visual Art I first and foremost before anything else, Foundation of Fashion Design is the next step, where students learn the fundamentals of garment making: from sewing by hand to machine and sketching designs. The last two classes available are Fashion Design and Advanced Fashion Design, where students really start to construct delicate and more complex garments, all of which come from each student's sketch designed by themselves.
"The goal is to have every student walk out of the class room at the end of the year, knowing how to sew efficiently, sketch, and craft garments based off of their own creativity," elaborated Mrs. Coulter. "I want them to express their creativity freely, and that is why I think this course is so wonderful!"
Not only are students delighted to have Mrs. Coulter teach this course, they are also very excited about the course itself.
"I was very excited when I saw that fashion design was a course choice. My classmates and I have been talking about having a designing course like this since we were freshmen, so seeing how it actually came true was elating!" exclaimed and excited junior, Zaria Spencer. "Not only that, I have been considering a career as a stylist or seamstress, so this class really became a clear choice."
Although there are students who take this course with the intent of making this their profession, there are others who were just put into this course but have realized the importance of this class.
"In all honesty, I wanted to take interior design at first, but after starting the curriculum, I began to enjoy it. It definitely is not boring," elucidated sophomore Maggie Watts. "I realized that although I may not be planning on going into design as my profession, it could be a practical skill that I can use in the future. For example, I could sew clothes for my children if that time were to come."
Coulter took on this challenge for many reasons. One of which was because she just really enjoys and is adroit at sewing.
"This is my forte!" passionately exclaimed Coulter. "Although this is my first time teaching how to compose a garment, I have actually been waiting my whole career to teach fashion and design! I want to help students who already have a vision of their future to further cultivate their passions and help guide them along the path to their ambitions."
Despite the fervor and plans for this course there have been some difficulties along the way that come along with starting a new course.
"Trying to gather all of the necessary materials has proved to be challenging. Getting sewing machines, fabric, threads, needles, and shelves to organize the materials into have taken some time." elucidated Coulter. "Teaching the students how to sew may be fun, but it can be difficult to completely avoid any minor injury, such as getting pricked. It is an inevitable part of sewing to get pricked a few times during the process of learning and actually sewing."
Coulter goes even further to explain what she expects from the students.
"I want your best, not your mess!" annunciated Coulter to her students.
Despite the unforeseen challenges in this, the students, as well as Coulter, are still motivated to pull through the class, each with their own goals.
"I hope this program continues to flourish, into something extraordinary for both Central and the students," phonated Coulter with great joy.
One step into the work room and one can tell the passion, ambition, and comfort of this class. Students collaborate to make their creativity, reality, while an enthusiastic mentor sagely watches over and guides the students. Central looks foreword to seeing where the start of this passion will lead to in the future.