Central's ACT Scores Have Improved but More Preparation Still Needed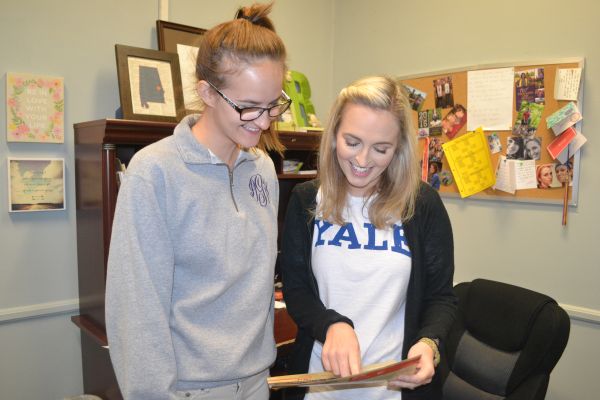 Central High School's average ACT score declined from 18.3 to 18.2 after results from the Tennessee Department of Education released the test scores at the beginning of the 2016-17 school year. Those scores were based on tests taken by the junior class in 2015.
"An 18.2 is not a terrible starting point, but it is definitely a score that we would want to improve upon," explained senior guidance counselor Mrs. Lindsey Ruggles. "We would encourage all of our students to shoot for at least a 21 because that is the gateway to many scholarships, like the HOPE, but many students do not achieve that on the first try for a number of reasons."
The ACT test is one of the most crucial assessments that all high school students are required to take. The composite score that students attain from exams in English, Math, Reading and Science is based on the total averaged score from each subject. This test score often determines what colleges and universities a student is eligible to apply to, as well as scholarships in which they qualify. Many students end up taking the test several times, attempting to meet the ACT requirements for a given college.
In 2016, Central High School had an average composite score of 18.2.
Although 18.2 seems like an unacceptable score for the students of Central High School in comparison to last year's 18.3, this score is actually a tremendous improvement from 2013's score of 17.7. That difference reflects the immense effort that Central has put into helping students prepare for the real test through practice courses and other preparatory classes.
"We have increased our emphasis on preparing and taking the ACT, and taking it as many times as possible," noted Ruggles. "Last year, we were able to give a practice test to all grades, and we are going to be able to give a practice test for this year as well. Each year, we are attempting to increase awareness of the importance of the ACT as well as awareness of accessible ACT prep."
Although Central's score falls behind Hamilton County Collegiate High School's score of 26.0 as well as Signal Mountain Middle-High School's 24.0 this year, Central does have a score surpassing Brainerd High School's score of 14.0 as well as Howard High School's 14.8. In addition to these, Central's score surmounts the scores of eight other schools in the county, including Hixson High School and Red Bank High School.
There are many factors to take into consideration concerning the small decrease in Central's average, but one of the main reasons seem to be in the students themselves. Some students do not acknowledge the importance of the ACT, which may cause some students do better the second time when they realize the amount of preparation that the difficult test really does require.
"I think in years past, students who did not think they would do well or did not care to attempt the ACT chose not to take the test at all. This past year, we had great attendance on test day, meaning that even those that were not as prepared tested as well as those who had been actively preparing," said Ruggles.
This increased attendance is something Central hopes continues this year. In addition to that, Central is planning on continuing efforts to make sure everyone is preparing, especially those who are only taking it because they are required to do so.
Seniors who took the ACT in April said Central's ACT score is not always a true measure of all students' abilities.
"Some students take the ACT seriously while others take it as a joke," said Hannah Holmberg, a senior student who has taken the test four times. " The first three times that I took the ACT, I did not study, but as you take the test more and more, you gain more experience which can help boost up your composite score… Everything that you do to prepare for the ACT has some effect on your score, so even if you only study for five minutes a day, there will be a difference. Even if it is not shown in your score, it may just be that you have gotten a bit more used to the wording of the questions… There are also those that are not focused until the very last year of high school when they realize that they can not get into any college without a moderately high composite score."
Ruggles offered advice for those who wanted to do better on their ACT: prepare.
"Students intending to improve their score should prepare. There are a ton of prep resources out there — especially online — and lots of them are free. The thing I hear most from students is that time management is the biggest obstacle for them during the test, so I would encourage everyone to take practice tests under the same time constraints they would have on the test so that they are comfortable with the pacing of each sub-test," explained Ruggles.
Although Central does not offer any ACT prep classes as an elective course in the master schedule, the school has been able to partner with a local agency to schedule test preparatory sessions for students that sign up and pay the reduced rate.
Nikki Green, a senior at Central, has taken the test three times and believes that getting enough sleep before the test is crucial.
"It is amazing how just getting enough sleep can help contribute to your score. Go to bed early the night before the test and make sure you get enough sleep; Just go to bed." remarked Green.
Green's score went from 20 to 24 after taking the test three times and she is currently considering attending the University of Tennessee.
Despite the score of 18.2, Ruggles is hopeful that the scores with be higher, but expects very minimal change in the over all score.
"The way the scoring works is that typically, there is very little change. I am hoping that Central is headed in the right direction, especially with this year's senior retake that has become available to the senior students. I am not expecting major changes by the point because that is just not how the scoring process works, typically there is very little change. Overall, I am hopeful that there will be a change, preferably an increase, in the scores," concluded Ruggles.