Hamilton County Schools' New Chief Academic Officer, Jill Levine, Hopes to Bring Back the Joys of Teaching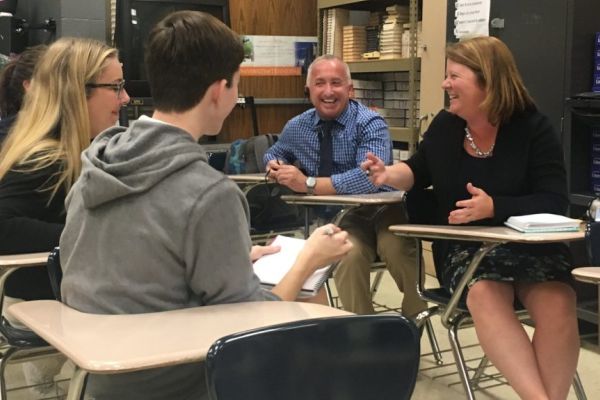 For 14 years, Jill Levine has overseen the educational well-being of hundreds of students as a principal in Hamilton County at Normal Park Museum Magnet School. However, this school year Levine has taken on a new challenge as the chief academic officer for the Hamilton County Department of Education.
"I thought it was time for me to try to help the district more broadly. We need to bring back the joy of teaching that will make kids want to learn," shared Levine, who has worked for 24 years as an educator, primarily in middle schools.
"
We need to bring back the joy of teaching that will make kids want to learn!"
— Jill Levine
The role of chief academic officer, which is a new position that was created this year, is not an easy one, especially taking into account this past year's climate toward Hamilton County Schools. The job requires Levine to oversee departments from pre-k through 12th grade that support curriculum, instruction, school administration and leadership. Specifically, her role includes overseeing the following divisions: Elementary, Secondary, and Magnet Schools, Curriculum and Instruction, K-12 Literacy, Elementary and Secondary Math and Science, Middle and High School Counselors, Federal Programs, Career and Technical Education, ESOL, Special Programs, Exceptional Education, JROTC, and STARS.
After accepting the new position, Levine has made it her goal to bring out the wonderful, working parts of our school system, while still figuring out what needs improvements.
"I get the opportunity to identify how schools run and what is taught. The curriculum and instruction are things we strive to improve everyday," explained Levine. "However, I do have to attend a lot of meetings and talk to the media about our school system."
Levine has begun showing her devotion to Hamilton County and willingness to learn by touring many of the schools throughout the county. On Sept. 28, Levine made her 36th stop by visiting Chattanooga Central High School for the first time as a part of her #HCDEengage initiative.
"My goals as chief academic officer include many aspects, such as communication and student engagement. We are slowly accomplishing this by sharing the positive things in our schools via Twitter and Facebook. The media likes to propagate many negative things in their headlines, but I have seen tons of fantastic things going on throughout our system," expressed Levine.
Parts of the culture and climate of the school systems must be addressed in order to make improvements, however it all starts with a leader, such as Levine, to stand up and point out how much greatness happens in our school system. Longstanding goals also continue to be evaluated, such as improving students' strength in literacy and college readiness.
Levine knows first hand the struggles of education in an environment where the budget or even the room temperature can hinder learning. For five years she taught third grade in inner city New Orleans. The area was in extreme poverty and the classrooms did not even have air conditioning.
"I focused my curriculum on art and writing. We even preformed musicals such as The Wiz, Oliver!, and Peter Pan. Our performances materials and props were extremely limited, though. We had to cut out a circle in cardboard to put on an overhead projector to use as a spotlight. The wife of the mayor of Chattanooga, [Monique Prado Berke], worked at a nearby hotel at the time and donated bed sheets that we used as stage curtains," recalled Levine.
While working in Washington, D.C., at 
the Principal Ambassador Fellowship Program which was sponsored by the United States Department of Education, Levine was reconnected to one of her students who had performed in one of the musicals. After being exposed to the musical atmosphere during a young age in elementary school, he chose to continue to pursue an educational career in acting and was now touring across the nation; Levine was even able to attend one of his performances. 
"While in school, a teacher may not see the direct impact of their teaching. It is the matter years that matter and show how education changed a student," said Central principal, Finley King, who performed the role of tour guide during Levine's Central visit.
Although some students might see education as being a boring drag, once they began to mature, students often realize what a great impact learning has had on their lives.
"Education is having teachers who find what you are good at and help you make you better at it," concluded Levine.
About the Writer
Preston Fore, Editor-in-Chief
Hi! My name is Preston Fore. I am currently a senior at Central, and this year will be my fourth and final year on the Digest; I am very grateful to serve...