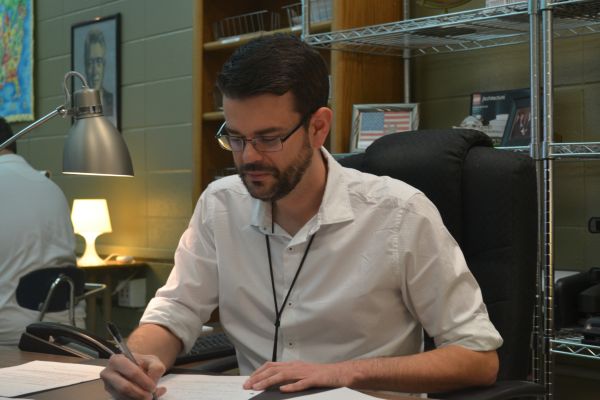 Teacher Spotlight: Mr. Shawn Seals Named Dedicatory of 2017 Champion Yearbook
Every year, the Senior Class votes on a member of the Central High School's staff, who has taught at the school for at least ten years, to be the dedicatory for the yearbook. This year, Mr. Shawn Seals, Central's yearbook adviser and United States History teacher, has been selected as the dedicatory for the 2017 Champion yearbook after the seniors selected him among nine nominees.
"It is a real honor to be able to be dedicatory. My family will be coming in to town for Senior Day and I am really excited!" said Seals.
Mr. Seals attended to Sequatchie County High School in Dunlap, Tennessee, during his younger years. Once he graduated high school, he wanted to visit Washington D.C. for his senior gift. His wish came true and was able to spend a week in our nation's capitol. While he was there, he saw the Washington Monument and was even able to tour the White House.
"I really did not have the money to go but I don't regret it," commented Seals.
He then attended Chattanooga State Community College for two years and later obtained his Bachelors in Secondary Education from Tennessee Technological University in Cookeville, Tennessee, where he worked in the office and worked at the front desk for a hotel.t
Mr. Seals was an office aid during high school and really loved his job. The principal noticed how much Seals loved it and that he was amazing at his job.
"Principal Layne let me do the morning announcements because he really did not like to talk. I loved to do it and I think that is really when I started to consider becoming a teacher", mentioned Mr. Seals.
His teaching career began at Sequatchie County Middle School where he taught for five years. During this time, he also earned his Masters and EDS from Tennessee Tech. After teaching at his old school, he moved to Central High School where he has taught for ten years.
"He is definitely the best teacher I have ever had. We would always watch interesting videos or do fun activities that helped me remember the material. The way he teaches makes everything so understandable," explained Senior Ester Ryabchuk.  "He made me love history."
Outside of this teaching life, Mr. Seals enjoys traveling to new places. He has visited about 35 states, the U.S. Virgin Islands, and been to countries such as Italy, Germany, Belize, and Cozumel. Mr. Seals also loves Italian food and his favorite restaurant is ll Primo.
He also loves to encourage his students to  "make history" which will be the theme for Senior Day.
Mr. Seals plans to continue teaching and maybe one day become an administrator.